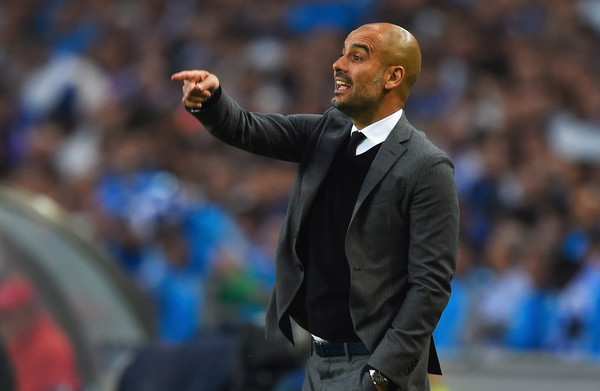 By RYAN TOLMICH
If Pep Guardiola had it his way, last year's World Cup would have been a very different one for the Brazilian national team.
Barcelona fullback Dani Alves says that Guardiola wanted to coach Brazil at last summer's World Cup, but was rejected as coach by officials that feared backlash of the national team hired a foreign coach. According to Alves, Guardiola also insisted that he would only be paid if Brazil were to succeed in the tournament.
"Pep said he wanted to make Brazil a World Cup champion and had an entire strategy to make us a world champion," Alves told ESPN Brasil. "But they didn't want it, because they said that they didn't know if Brazil would accept a foreign coach.
"Pep is the best coach in the world, the greatest sports manager I've ever seen. He revolutionized football, revolutionized a team, and we had the chance to have him with us. If you let an opportunity like this go by then you are not really thinking about the national team."
Here are some more news and notes to kick off your Wednesday morning:
TOTTENHAM TO HOST TWO NFL GAMES PER SEASON AT NEW STADIUM
Following the success of the league's forays into Wembley Stadium, the National Football League will soon claim another London stadium as a new home.
Tottenham announced that the club has agreed to host two NFL games annually at the club's new stadium, which is set to open in 2018. The stadium, which will host NFL games for 10 years, will feature a retractable grass field with an artificial surface underneath for NFL games.
"We have an opportunity now to deliver one of the most unique sports, leisure and entertainment venues in the world, bringing together the EPL and NFL for the first time," said Daniel Levy, Chairman of Tottenham. "The socio- economic benefits this will bring to the area will be immense and demonstrates our commitment to the regeneration of this priority borough in London."
The club will release images and details of the updated designs it has made to ensure that the stadium could house both sports, as well as a variety of other events.
"Anyone who has seen American Football at Wembley Stadium cannot fail to have been thrilled by the spectacle," said London mayor Boris Johnson, "and the wise heads that run the NFL have clearly not missed the fact that Londoners are going absolutely gangbusters for Gridiron.
"Touchdowns in Tottenham can only add to our reputation as a global sporting powerhouse, and help us take another step towards our goal of having a permanent NFL franchise here in London."
STERLING MISSES OUT ON LIVERPOOL TRAINING AFTER ASKING OFF PRESEASON TOUR
It is a poorly kept secret that Raheem Sterling wants out of Liverpool, as the forward continues to play hardball with the club to force a move.
Sterling reportedly missed out on training Wednesday, citing illness as the reason for his absence. Sterling's inability to train comes just one day after the 20-year-old asked to be left off the preseason roster for the club's upcoming trip to Asia.
Liverpool, who rejected a bid from Manchester City in June, says that Sterling will be evaluated by the medical team, as is standard procedure, while manager Brendan Rodgers expects Sterling to travel as planned.
Sterling, under contract with Liverpool until 2017, continues to target a Manchester City move, despite Liverpool's insistence that the club will not sell for less than their valuation of the player.
QUICK KICKS
Premier League clubs paid £2.4 billion ($3.7 billion) in tax during the 2013-14 season. (REPORT)
AC Milan has been awarded the rights to build a new stadium. (REPORT)
Real Madrid fullback Dani Carvajal has signed a new deal to remain with the club. (REPORT)
Brazilian legend Rivaldo made his comeback at age 43 as Mogi Mirim defeated Nautico in Serie B action. (REPORT)
—
How would Guardiola have fared with Brazil? How will the hosting of NFL games effect Tottenham? What do you expect to happen with Sterling?
Share your thoughts below.