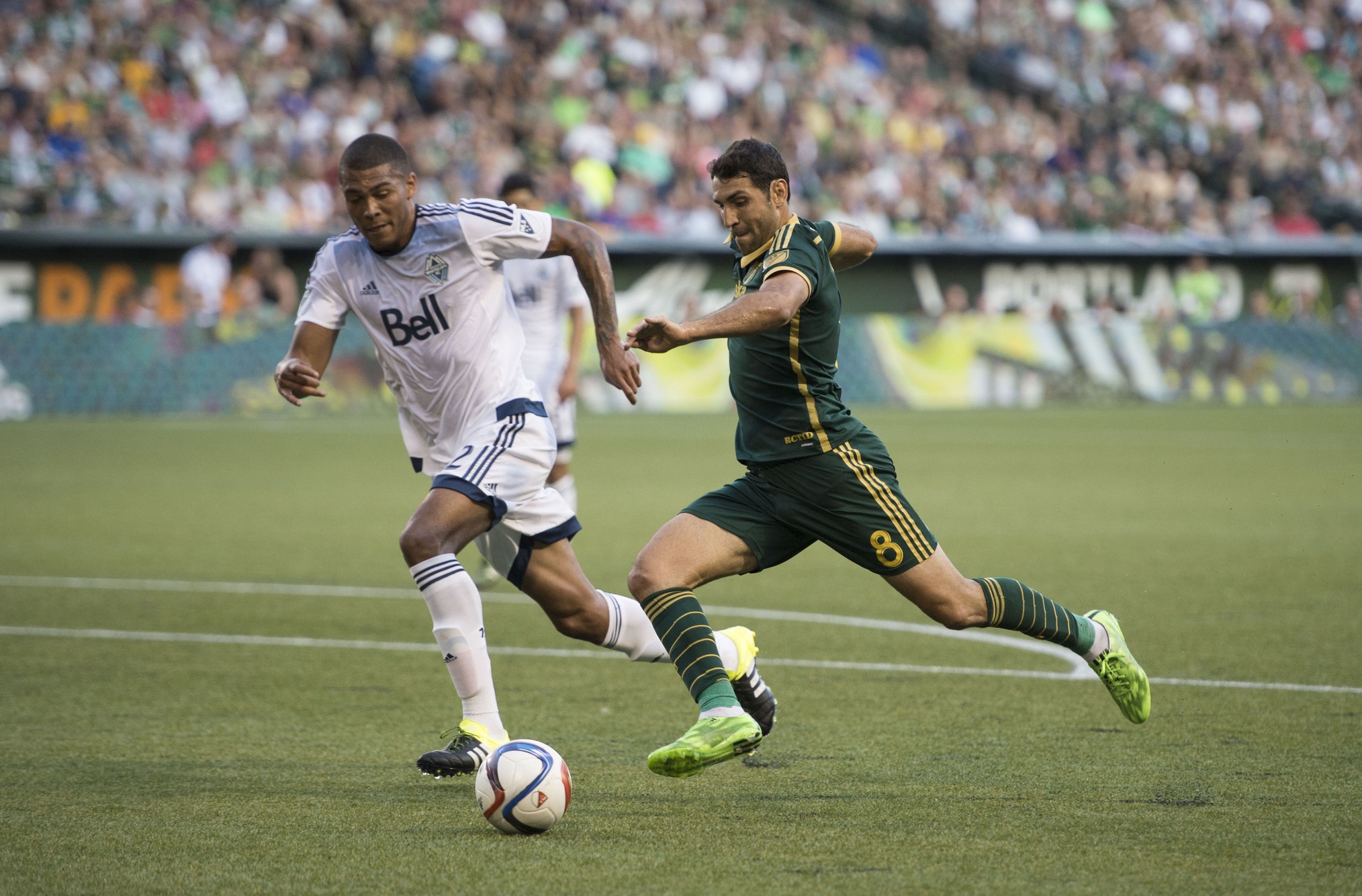 Photo by Troy Wayrynen / USA Today Sports Images 
By CAITLIN MURRAY
PORTLAND, Ore. — A chance to take the Cascadia Cup lead slipped away from the Portland Timbers on a balmy Saturday evening at Providence Park. A long-range rocket from Vancouver Whitecaps midfielder Matias Laba dashed a dominant start from the hosts for a 1-1 finish.
Laba's 58th-minute equalizer was a stunner from some 25 yards out, and it marked a shift in the momentum of a match where the Timbers scored early and then came out more aggressively in the second half. The goal was Laba's first of the season.
The Timbers took the lead in the 33rd minute when Fanendo Adi laid a pass off to Diego Valeri running up the right flank, and the Argentine fired past David Ousted.
It was Valeri's second goal of the season since scoring on May 9 against the Montreal Impact. Valeri missed 11 games this season due to injury, including the first eight to open the year.
"When you score, it is always good," Valeri said. "But for me if we don't win, it doesn't matter. For me, the most important is the team and getting three points, but we couldn't."
The Timbers stayed in the match early on a pair of key defensive plays, including a sliding off-the-line clearance from defender Nat Borchers to deny Kekuta Manneh. Goalkeeper Adam Kwarasey made a kick-save in the 16th minute to deny Manneh one-on-one.
The Timbers held the edge in possession, but it was an even match chance-wise, with near-goals on both ends of the field keeping the score close. Will Johnson nearly pulled the Timbers ahead in the 15th minute, firing inches wide from the top of the box. Ousted blocked a close-range Valeri shot in the 31st minute.
"We weren't at our best in the first half but found a goal," coach Caleb Porter said. "I thought they were better in the first half. We were the better team in the second half but they found a goal. So, it's probably a fair result."
The match ended on an unusual and tense note as Johnson was given a yellow and then a red card after the whistle while players and staff were on the field, apparently for dissent.
With the result, the Timbers pulled level with the Seattle Sounders for fifth place in the Western Conference with 32 points. The Whitecaps hold their spot just ahead of the Timbers at 33 points.
The Timbers would have taken a lead in the Cascadia Cup standings with a win, but instead sit behind the Sounders, who they will face in their last Cascadia match-up next month. The Whitecaps sit in third.
Up next, the Timbers travel to Dallas on Saturday while the Whitecaps host the San Jose Earthquakes next Sunday.