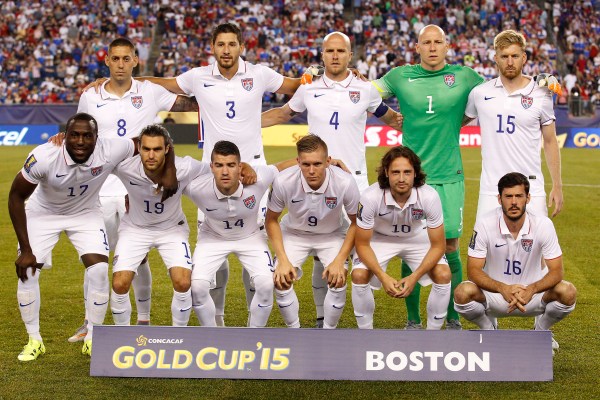 Photo by Stew Milne/USA Today Sports
By FRANCO PANIZO
Quarterfinals berth? Check. Top spot in the group? Check. Impressive performance? Not quite.
The U.S. Men's National Team might not have much to play for from a result standpoint on Monday night when it meets Panama (9:30 pm ET, Fox Sports 1), but the Americans know they need to show much improvement after struggling to convince in either of their two CONCACAF Gold Cup group stage matches.
Settling for gritty victories against Honduras and Haiti in the past week to claim an early first-place finish in Group A and ticket to the knockout rounds, the U.S. is looking for a more comprehensive showing against the Panamanians at Sporting Park in Kansas City, Kansas. The challenge will be a big one for the Americans, however, as they will have to find motivation in a rare meaningless game while battling a familiar Panama team that is playing for its tournament lives.
U.S. head coach Jurgen Klinsmann has to weight rest or rhythm in this one given the quick turnarounds and travel that come with each group game, but is still likely to field a strong group in order to regain some sharpness and kick things into another level.
Who exactly will start for the U.S.? Here is the lineup we can see Klinsmann trotting out:
Some thoughts:
The two new faces here are Alejandro Bedoya and Alfredo Morales, who have yet to see the field during this Gold Cup. Jurgen Klinsmann hinted at playing them during his pre-game press conference on Sunday, and they are most likely to occupy the outside midfield spots should they start. Bedoya would be allowed the opportunity to show how far he is coming along in terms of his fitness and Morales – who would be cap-tied with an appearance – could make a case to remain during the knockout rounds.
With Klinsmann stating that he wants the team to continue building, the rest of the midfield and attack will probably be filled with first-choice players. Kyle Beckerman should slot back into the defensive midfield position while Michael Bradley again serves as the playmaker atop the diamond. Bradley could be limited to 45 minutes here so as to be somewhat rested, and that could open the door for someone like Mix Diskerud or Aron Johannsson to come on at halftime.
Klinsmann has also vowed to stick with out-of-form forward Jozy Altidore, so penciling in the Toronto FC striker up top seems a safe bet. Johannsson could earn a second straight start next to Altidore if Clint Dempsey were to get a breather, but Dempsey needs to continue to adjust to playing in a more advanced role and appears to be the choice at the other forward spot. Like Bradley, there is a chance Dempsey is played only a certain amount of minutes to reduce fatigue.
The back line was completely altered in the last match vs. Haiti, and a completely swap could very well happen again. Klinsmann may want to revert to the back four that he used in the opener vs. Honduras to give it another good run against some tough opposition before the knockout rounds. That means that it is likely that Fabian Johnson slots back into left back, John Brooks and Ventura Alvarado pair up again in the middle, and Timmy Chandler is tasked with patrolling the right side.
Tim Ream could potentially earn another look in place of one of Brooks or Alvarado after showing well vs. Haiti on Friday, but Klinsmann is high on the young duo and has said that both Brooks and Alvaado need games to make mistakes and gain experience. There's no better match for that than this one.
In goal, Brad Guzan is all but assured to remain the starter as he continues to work his way back to his best.
—–
What do you think of this projected USMNT lineup? Hoping Klinsmann gives long looks to both Bedoya and Morales? Should the likes of Dempsey and Bradley start, or would it be better to rest them?
Share your thoughts below.