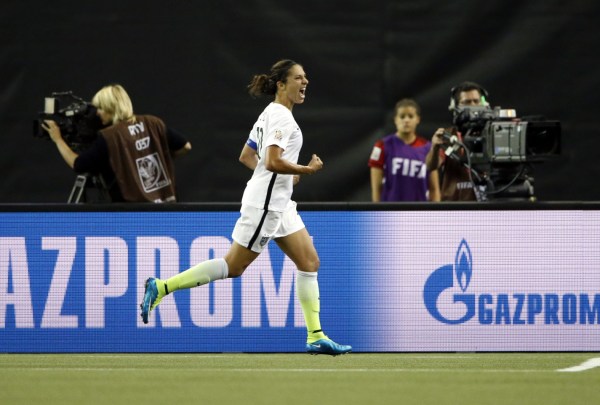 Photo by Michael Chow/USA Today Sports
By RYAN TOLMICH 
Just moments after it looked like a Germany penalty kick would be the cause of death for the U.S. Women's National Team, a spot-kick finish proved to be the moment that the earned the Americans continued life and a spot in the Women's World Cup final.
Carli Lloyd was the author of that decisive goal, and her cold-blooded finish combined with her late assist led the USWNT to a 2-0 victory over Germany in Tuesday's Women's World Cup semifinal. Lloyd's performance also earner her SBI's USWNT Woman of the Match award.
Lloyd's calm demeanor on her penalty kick allowed her to rocket home a shot just minutes after seeing Germany miss in the same situation on the other end of the field. Then, with the USWNT holding onto a slim one-goal lead, Lloyd turned provider and sealed the victory by feeding substitute Kelley O'Hara.
The goal gives Lloyd her third in as many games. She won SBI's Woman of the Match honors over O'Hara, Alex Morgan and Morgan Brian.
What did you think of Lloyd's performance? How impressed were you with her penalty kick? Which USWNT player stood out to you the most in Tuesday's semifinal?
Share your thoughts below.