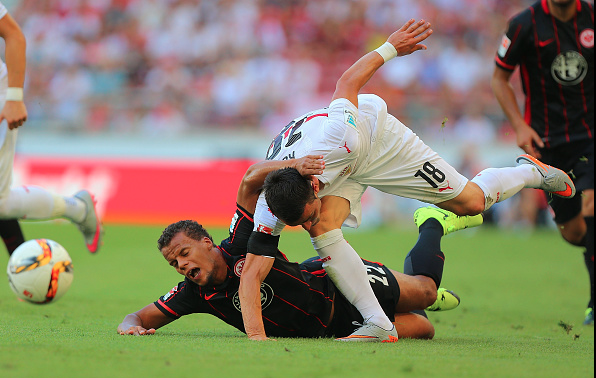 By FRANCO PANIZO
Timmy Chandler's first start of the Bundesliga season will be his last for some time.
Not because he is back in the Eintracht Frankfurt dog house, but because he has suffered an injury that will require surgery.
Eintracht Frankfurt has announced that Timmy Chandler hurt his meniscus in the first half of Saturday's 4-1 road victory over VfB Stuttgart. The injury will require surgery, and though no specific timetable for recovery was provided, the 25-year-old right back will likely be shelved for several weeks.
At the minimum, Chandler will miss the U.S. Men's National Team's upcoming friendlies against Peru and Brazil, making the Americans' current fullback situation even more dire. U.S. head coach Jurgen Klinsmann is already without the injured Fabian Johnson, and does not have many of his regulars playing on a weekly basis at their clubs. Fellow veteran DaMarcus Beasley also recently picked up an injury.
Needing to tap deeper into the player pool, some options Klinsmann could look at are Championship-based Jonathan Spector and Eric Lichaj. Other possibilities are playing the versatile Geoff Cameron there, pushing midfielder Alejandro Bedoya to the back, or looking at options in MLS like Brad Evans and Tony Beltran.
Chandler seemed to be a lock to be called in by Klinsmann for the U.S.'s upcoming games, especially since he had just started to see the field again for Eintracht Frankfurt. After some public criticism, Chandler came off the bench to make his season debut last week before earning his first start of the season in Saturday's triumph.
Chandler was deployed at right back against Stuttgart, and lasted until halftime before being replaced because of the injury. He picked up a yellow card in the 21st minute.
Klinsmann is expected to release his U.S. roster for the games vs. Peru and Brazil on Sunday.
—–
What do you think about Chandler suffering a meniscus injury? How long do you expect him out for? Who should Klinsmann call in at fullback for the upcoming friendlies?
Share your thoughts below.