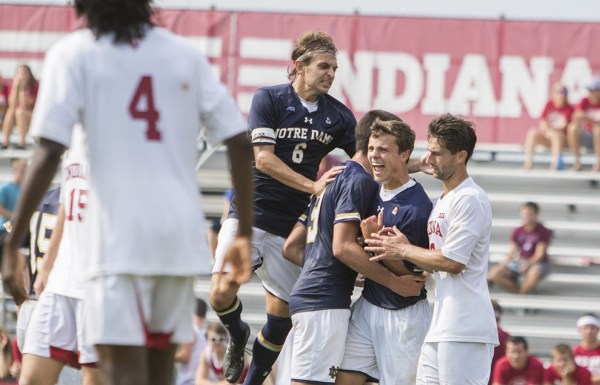 Photo by Notre Dame Athletics
By AARON CRANFORD
The Notre Dame Fighting Irish were on their heels for a majority of Sunday's match, but a golden goal in the second overtime period saw them steal a 1-0 win against SBI No. 14 Indiana.
While the Hoosiers attempted a total of 14 shots, the No. 6 Fighting Irish only mustered six on the afternoon. However, only one of those 20 counted, and freshman Thomas Ueland was the man to make it happen.
After a cut into the penalty area from the left side, Blake Townes chipped a short pass to the six-yard box, and Ueland was there to flick the ball toward goal with his left foot. After drawing SBI No. 8 Maryland Friday, Notre Dame remains undefeated to start their 2015 campaign.
"I always remember my old coach Alex Ferguson at Aberdeen saying, 'If we're going to win the league and win cups, we have to go to Parkhead and Ibrox where Celtic and Rangers play and control the game. There has to be no fear,'" Notre Dame head coach Bobby Clark said after the late win.
"This weekend the team showed me they are tough. If you're going to win trophies you've got to go into tough places and win. We have plenty of tough places on our schedule this season, so we've got to be able to handle them. This is a good sign but there are equally hard tests ahead of us."
Reigning national champions and No. 3 Virginia Cavaliers started their repeat run off on the right foot Saturday, as Junior Nicko Corriveau headed home the lone goal in a 1-0 win against No. 16 Charlotte. No. 2 UCLA also won, 1-0, thanks to Malcolm Jones, who thumped in his own rebound in the 62nd minute after New Mexico goalkeeper Jason Beaulieu stopped his first attempt.
Meanwhile, Providence forward Mac Steeves continued his dominant start to the college season, scoring the team's two goals in their 2-0 win vs. Monmouth, which adds to the two he scored in the Friars' 2-1 win Friday.
No. 5 Creighton, No. 7 North Carolina and No. 9 Clemson all improved to 2-0 on the season after dominating opponents Friday and Sunday. However, Monday morning, No. 1 Georgetown lost, 2-0, to South Florida (USF), who also enjoyed two wins during the weekend.
Finally, after winning their first game Friday, the No. 20 Akron Zips dropped their first result in blowout fashion, as Old Dominion thrashed the Zips, 4-1.
Check out Friday's results here, and take a look at all of Saturday's and Sunday's top college soccer results below:
SATURDAY (HOME TEAM LISTED FIRST, WINNERS IN BOLD)
(2) UCLA 1, New Mexico 0. (RECAP)
(3) Virginia 1, (16) Charlotte 0. (RECAP)
SUNDAY
(5) Creighton 4, Milwaukee 0. (RECAP)
(14) Indiana 0, (6) Notre Dame 1. (Bloomington, Ind.) (RECAP)
(7) North Carolina 3, Santa Clara 0. (RECAP)
(8) Maryland 4, St. John's 0. (Bloomington, Ind.) (RECAP)
(9) Clemson 4, Mercer 1. (RECAP)
(11) Washington 3, UC Davis 0. (RECAP)
(13) Wake Forest 3, Florida International 2. (RECAP)
Bucknell 0, (15) Syracuse 1. (RECAP)
(17) Providence 2, Monmouth 0. (RECAP)
Virginia Commonwealth 0, (19) Coastal Carolina 2. (RECAP)
Old Dominion 4, (20) Akron 1. (RECAP)
Wisconsin 0, (21) Xavier 2. (RECAP)
(22) Maryland, Baltimore County (UMBC) 5, Central Arkansas 0. (RECAP)
Oregon State 1, (23) Michigan State 0. (RECAP)
(24) Penn State 1, Navy 1. (RECAP)
MONDAY
South Florida 2, (1) Georgetown 0. (RECAP)
(12) Louisville 0, (4) Stanford 1. (RECAP)