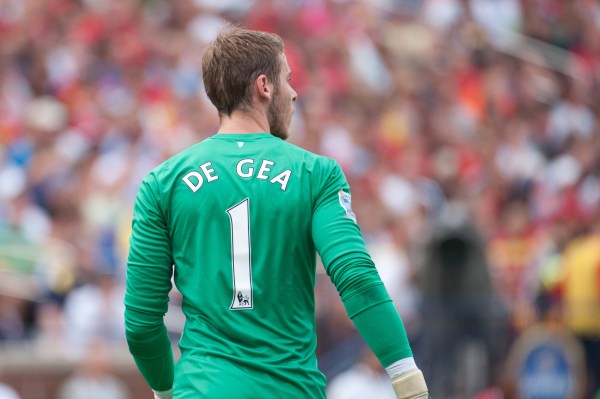 By SBI SOCCER
Just when deadline day shenanigans couldn't get any crazier, it treated us to the David DeGea transfer fiasco.
Real Madrid and Manchester United spent the bulk of the summer in a standoff over the potential transfer of goalkeeper David DeGea, and ultimately took too long getting down to business. After agreeing to a deal sending DeGea to Real Madrid for a package including £29 million and Costa Rican goalkeeper Keylor Navas, the transfer fell through because the paperwork to complete the deal did not arrive in time to the Spanish Premier League offices.
Manchester United officials insist they have proof that the paperwork was submitted in time, and both clubs are protesting the decision not to allow the blockbuster deal to go through.
If the transfer winds up being nullified it will be a major blow for both clubs. DeGea has already made public his discontent at Manchester United, and is heading into the final year of his contract with the club. He was expected to step in as Real Madrid's new starter, while Navas was expected to take over as Manchester United's starter.
Here's a closer look at some news and notes from Deadline Day:
CHICHARITO JOINS BAYER LEVERKUSEN
After spending last season on loan with Real Madrid, Javier 'Chicharito' Hernandez has found himself a new permanent home
The Mexican international forward has joined German club Bayer Leverkusen, signing a three-year deal with the club. Hernandez's move comes after five seasons as a member of Manchester United, for whom the Mexican star scored 57 goals in 159 appearances.
"I know the English Premier League and the Primera Division in Spain, two of the three major European leagues," Hernandez said in a statement. "Now I want to experience the Bundesliga. It's wonderful that I get to play for a club like Bayer Leverkusen. It's a great opportunity for me and I want to achieve something here."
Leverkusen finished fourth in the Bundesliga last season and was recently drawn into a Champions League group with Barelona, Roma and BATE Borisov.
"With 'Chicharito', we have more possible variations and we'll be more unpredictable," said Bayer Leverkusen sporting director Rudi Voller. "He's a lively, agile and fast striker who is strong, has a good technique and a very good record.I am delighted that he has chosen to join Bayer Leverkusen. The Bundesliga can look forward to seeing a great player."
WOLFSBURG MAKES STATEMENT WITH ADDITIONS OF DRAXLER, DANTE
German club Wolfsburg wasted little time in spending the money secured from the sale of Kevin De Bruyne.
Wolfsburg announced Monday that the club has signed centerback Dante from Bayern Munich and midfielder Julian Draxler, formerly of Schalke.
In Dante, Wolfsburg adds an experienced centerback, one with 179 Bundesliga appearances and 13 caps for his native Brazil.
"Dante is a battle-hardened Bundesliga player, who will immediately help us," said Wolfsburg manager Dieter Hecking in a statement, "and, as a left-footer, he increases our variability at the centre of defense. With his sporting quality and his character, he fits into our team perfectly."
Draxler, meanwhile, provides Wolfsburg with a like-for-like replacement for the departed De Bruyne, who recently departed the club to join Manchester City. The 21-year-old German international scored 30 goals in 170 competitive appearances for Schalke, while also earning 15 caps for the World Cup winners.
"Julian was our desired player and, with the transfer of Kevin De Bruyne, we were able to make this move happen," said club Director of Sport Klaus Allofs. "We are delighted that he has opted to sign for VfL Wolfsburg, thus remaining in the Bundesliga, and we truly believe that Julian will develop further still with us."
"VfL Wolfsburg is a new challenge for me," added Draxler in a statement. "I want to continue playing football at the very top level. VfL offers exceptional prospects and an extremely strong team. I am looking forward to the Champions League with VfL and I want to be playing for titles here in the coming years.
MANCHESTER UNITED LOANS JANUZAJ; SIGNS MARTIAL
With one youngster coming in, Manchester United has loaned out another of the club's more promising prospects.
Man United announced Monday that the club has loaned midfielder Adnan Januzaj to Borussia Dortmund for a season-long loan, while the club has also signed Monaco youngster Anthony Martial, according to the French Football Federation.
Martial joins in a reported $55.24 million (£36 million) move, as the 19-year-old departs Monaco following the Ligue 1 club's elimination in the Champions League playoff round.
"Anthony Martial was presented Monday at 11.00 at the gathering of the France team at Clairefontaine," said a statement from the FFF. "He requested from Didier Deschamps permission to travel to England to sign a contract with Manchester United.
"Given the exceptional circumstances, the coach has acceded to the request of the player. Anthony Martial left Clairefontaine Monday at 12:00. He will return on Tuesday morning."
As Martial arrives, Januzag departs to join the Bundesliga club. To date, Januzaj has made 60 first-team appearances for Man United, scoring five goals with the most recent coming August 14 against Aston Villa.
"Borussia Dortmund are a great club," Januzaj said in a club release. "The fans here are supposed to be really incredible and I want to achieve great things with the team."
In addition, goalkeeper Anders Lindegaard has left Man United to join West Bromwich Albion on a free transfer.
FC PORTO ADD PAIR OF MEXICAN INTERNATIONALS
FC Porto is quickly becoming a foreign home to Mexican soccer players.
Late on transfer deadline day, Porto announced the signings of left back Miguel Layun on loan from Watford with an option to buy for €6 million, and midfielder Jesus "Tecatito" Corona on a full transfer from FC Twente. Corona signed a five-year contract and has a €50 million transfer release clause.
"I feel great, happy to be here and to be part of this great team, that is used to fighting for the biggest goals, due to their greatness," Layun said in a press release. "I am eager to start training, to be at the same level as my teammates and to fight for a spot in the starting team."
FC Porto now features four Mexicans in its squad with Layun, Corona, midfielder Hector Herrera, and goalkeeper Raul Gudiño. Defender Diego Reyes is away from Porto this year on a season-long loan with Real Sociedad in La Liga.
QUICK KICKS
Emmanuel Giaccherini has left Sunderland to join Bologna on a season-long loan. (REPORT)
Winger Jakub Blaszczykowski has departed Borussia Dortmund for FIorentina. (REPORT)
Atletic Bilbao have reached an agreement with Atletico Madrid for the transfer of Raul Garcia. (REPORT)
AC Milan prodigy Hachim Mastour has joined Malaga on loan. (REPORT)
Forward Fabio Borini has joined Sunderland on a transfer from Liverpool. (REPORT)
—
What do you think of Monday's dealings? Which players do you see making the biggest impacts with their new clubs?
Share your thoughts below.