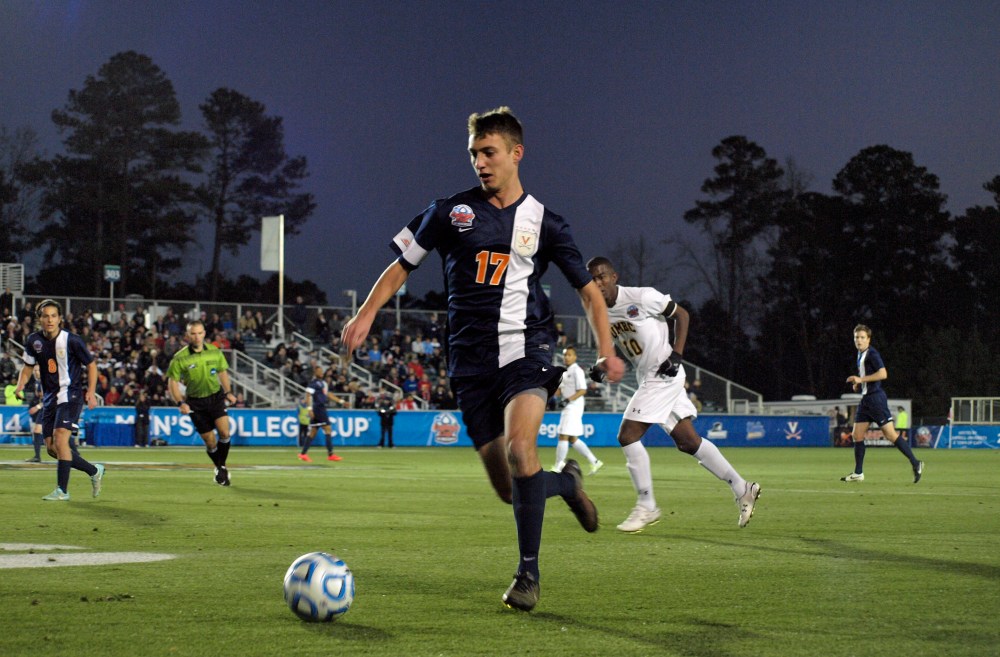 Repeating as national champions is no easy task, but with the help of a few young attackers and a determination to stay disciplined, the Virginia Cavaliers are hoping to do just that.
"We're just trying to treat business as usual," head coach George Gelnovatch told SBI ahead of their first match against the Charlotte 49ers on Saturday at 7 p.m. in Charlottesville, Virginia.
"We need to try to understand there's going to be a little bit of a different level potentially coming from teams, especially early. The coaches will be motivating the teams and saying, 'OK, you have an opportunity to beat the national champs tonight,' so just being on the alert for little things like that."
Gelnovatch has a handful of returning players to work with, including senior Scott Thomsen, who can be productive from the midfield but also shift into the backline if needed, and senior Todd Wharton, a staple in UVa's midfield since his freshman year.
Pro scouts will have their eyes on sophomore standout midfielder Jake Rozhansky and U.S. Under-20 goalkeeper Jeff Caldwell, both key figures on the Cavaliers title team. Rozhansky is generating buzz as a potential Generation adidas target for MLS, and Caldwell is considered one of the best goalkeepers in the country.
As good as Virginia's nucleus of returning starters is, it will be the Cavaliers' incoming class of freshman that could determine whether they repeat as NCAA champions. One prospect to keep an eye on is Derrick Etienne, a Haitian Under-20 national team player and highly-rated New York Red Bulls academy midfielder, who will be called on to help fill the void left by the graduation of current Philadelphia Union rookie Eric Bird.
And while sources told Goal.com in July that the MLS team was looking into signing Etienne as a Homegrown Player, he is currently with the defending national champions and is expected to be involved in Gelnovatch's plans for the season ahead.
"We have a good group of guys returning, so that is always nice," Gelnovatch said, "and I think most people know about Derrick Etienne coming from the (New York) Red Bulls.
"He's been playing with their USL team, (New York Red Bulls II). For three or four months, he's been playing with professionals, so it doesn't get much better than that in terms of preparation, and it has shown; he's been very good, we expect great things from him."
Edward Opoku and Jean-Christophe Koffi are two other incoming freshman that Gelnovatch is impressed with. Opoku has only been in the U.S. since the age of 15, while Gelnovatch said Koffi has been "fun to watch" at D.C. United Academy, where he spent four years training and playing.
"Those three guys, (Opoku, Koffi and Etienne), have stood out as some pretty dynamic and dangerous attacking guys for us," he said of the freshman trio.
The younger members of the 2015 Cavaliers weren't the only ones to train with the pros during the summer, though, as Wharton told SBI that he went across the country with teammate Sheldon Sullivan to train with the Portland Timbers PDL team.
And while the Cavaliers' attack looks promising ahead of the 2015 season, the incoming class has to learn to adjust to the team's goals. And seniors, like Wharton, will need to step up to mold them into the system that produced a championship one year ago.
"Individuals may stand out, but everyone must play for the team," Wharton said. "If we just focus on getting all of the (incoming players) on the same page and focusing on doing what we want to do, then I think that will be the most important part (in repeating as champions)."
"A lot of how we did well last year was being tactically sound and disciplined," Gelnovatch added. "We weren't a high-scoring team. We just didn't have the pieces to do that, so we had to approach it a different way by being disciplined, tactically disciplined.
"It went a long way for us in winning a championship, so if we can keep our tactical discipline, as our goal, and we add a few teeth in guys like Derrick Etienne, Edward Opoku and Jean-Christophe Koffi … then I think we have a few more weapons in terms of attack, and we can put that all together moving forward."