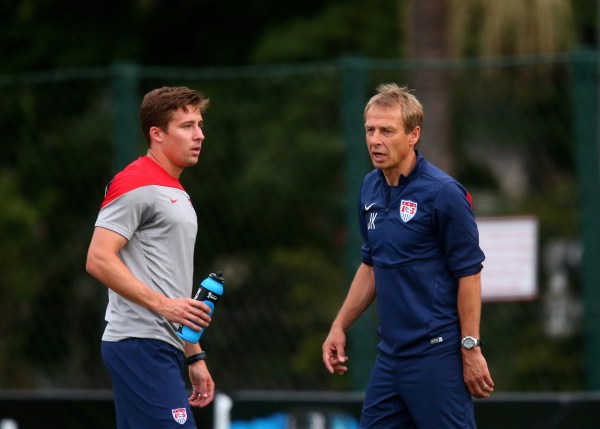 photo by Mark J. Rebilas/USA Today Sports
By FRANCO PANIZO
Crunch Time is quickly approaching for the U.S. Men's National Team, and everything is about results and performance right now.
U.S. head coach Jurgen Klinsmann unveiled a veteran-laden squad on Sunday for upcoming friendlies with Peru and Brazil. Several returning faces were included on the 23-man roster, including Tim Howard and Jermaine Jones, and Klinsmann's main intention for bringing those players back is to have them compete for starting spots with the current group of incumbents.
Competition within the squad is always something Klinsmann is keen on having, but with next month's 2017 Confederations Cup playoff vs. Mexico looming and World Cup qualifying beginning in November, having players battle it out is paramount.
"In the last year we gave the younger generation a lot of confidence and a lot of support and a lot of help, which is our job from a coaching standpoint. Now the moment comes and they have to prove it," said Klinsmann. "They have to go face-to-face with the established guys and try to steal their spot. This is what it's about now. We will find out if they are ready for it. We have the playoff game for one, and then we have World Cup qualifying, which is not experimenting any more.
"In a certain way you can tell that the transition phase comes to an end and now they need to prove if they are still in the top spot or not."
After a failed CONCACAF Gold Cup in July that saw the U.S. finish in fourth place and miss out on a chance to automatically reach the Confederations Cup, several positions are there to be had. Centerback seems the most obvious, given the struggles that the tandem of Ventura Alvarado and John Brooks endured in the regional tournament, and the fact that Klinsmann has brought in the likes of Matt Besler, Omar Gonzalez and Geoff Cameron.
Both outside fullback positions are also wide open, at least in this camp. While Fabian Johnson is sure to lock one spot down when he's healthy, his current injury and the ones suffered over the weekend by Timmy Chandler and DaMarcus Beasley at their clubs means that there is a chance for others like Greg Garza to step in and really make a case for themselves.
Even the goalkeeper position, where Brad Guzan has been tabbed the starter for now, is interesting with Howard returning after a year-long sabbatical.
"Some positions are definitely there to grab, but you've got to grab them with a lot of determination and a lot of ambition," said Klinsmann. "That's why bringing back Tim Howard now and Jermaine Jones and Geoff Cameron kind of signals the fight and the competition now happening between the older established ones and the new wave of players.
"This is what we want to see from Sunday on in training. We want to see competition, and then we're going to make some calls. Obviously the most crucial calls come for the roster that goes to the Rose Bowl (to face Mexico in October)."
One other area where Klinsmann plans to see players really compete for spots is up top. Jozy Altidore, Aron Johannsson and Bobby Wood are among the forwards Klinsmann has called in for this camp, and there should be a big opportunity for them all to shine, given that regular attacking starter Clint Dempsey will miss Friday's friendly vs. Peru to stay with his club.
Altidore has usually lined up next to or in front of Dempsey when available, but the 25-year-old forward's rough performances at the Gold Cup and poor form at Toronto FC since may mean he is not a de facto starter anymore. If that is the case, he will have to prove in this camp and these friendlies that he still has what it takes to spearhead the attack.
Again, Klinsmann is counting on competition.
"I think the situation with our forwards is wide open," said Klinsmann. "Obviously the most consistent player over the last years with us has always been Clint Dempsey, but Clint right now also has some injury issues and is obviously not the youngest anymore, so we constantly try to develop the next wave of forwards and so far nobody has a real big advantage over another guy."