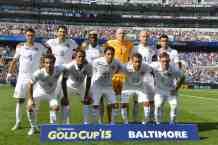 By DAN KARELL
Although their 2015 CONCACAF Gold Cup run came to a disappointing end in the semifinals, the U.S. Men's National Team had a reason to smile on Thursday morning.
The USMNT jumped five places to No. 29 in FIFA's August World Rankings. The boost came after Gold Cup wins against Haiti and Cuba, as well as a pair of draws with Panama. The 2-1 win over Honduras is not counted towards last month's point accumulation.
While the U.S. had a good month, in terms of the FIFA Rankings, Mexico did one better, zooming 14 places up to No. 26 in the rankings to lead all CONCACAF nations. Costa Rica moved up three places to No. 38, Jamaica jumped 21 places to No. 55, and Trinidad and Tobago moved up eight places to No. 56.
In the top ten, Argentina remained No. 1, followed by Belgium, Germany, Colombia, Brazil, Portugal, Romania, England, Wales, and Chile.
——
What do you think of this news? Glad to see the U.S. move up a few places? What do you think of Wales moving into the Top 10?
Share your thoughts below.