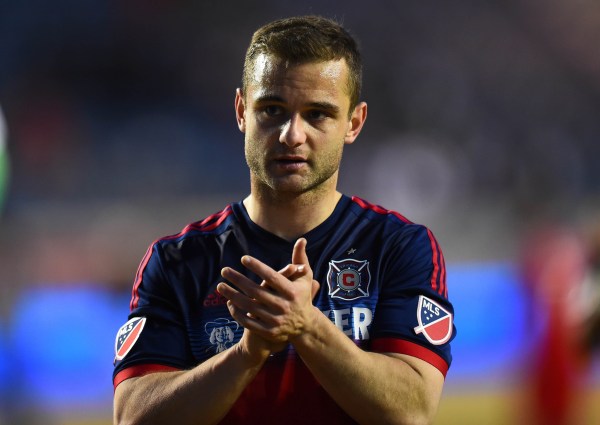 Photo by Mike DiNovo/USA Today Sports
By RYAN TOLMICH
Shaun Maloney's brief tenure with the Chicago Fire has come to an end.
The Fire announced Monday that Maloney has departed the club via a transfer to English Championship club Hull City. The transfer fee received by the Fire was not disclosed.
"This was a very difficult decision to make but one that I felt I needed to make for various reasons," Maloney said. "I'd like to thank Andrew Hauptman and Frank Yallop for the initial hard work they put into bring me to Chicago in January.
"Although my time at the club was brief, I feel very fortunate for the experience to play for the Chicago Fire and would like to thank in particular my teammates for the time I spent with them and hope that in the future the club can become successful on the pitch once again." 
The Scottish international joined the Fire as a Designated Player just this past January in a move from Wigan Athletic.
In total, Maloney tallied three goals while providing two assists in 14 league appearances for the Fire. In addition, Maloney made three appearances in U.S. Open Cup play, helping the Fire reach the semifinal stage.
"It's tough to see a player of his quality leave but you have to take the human aspect of sport into consideration," said Fire Head Coach Frank Yallop. "I'm pleased that the club, Andrew Hauptman, myself and Brian Bliss were able to find a solution that worked for all parties involved and I wish Shaun nothing but the best."
What do you think of Maloney's departure? How do you expect the Fire to lineup with Maloney gone?
Share your thoughts below.