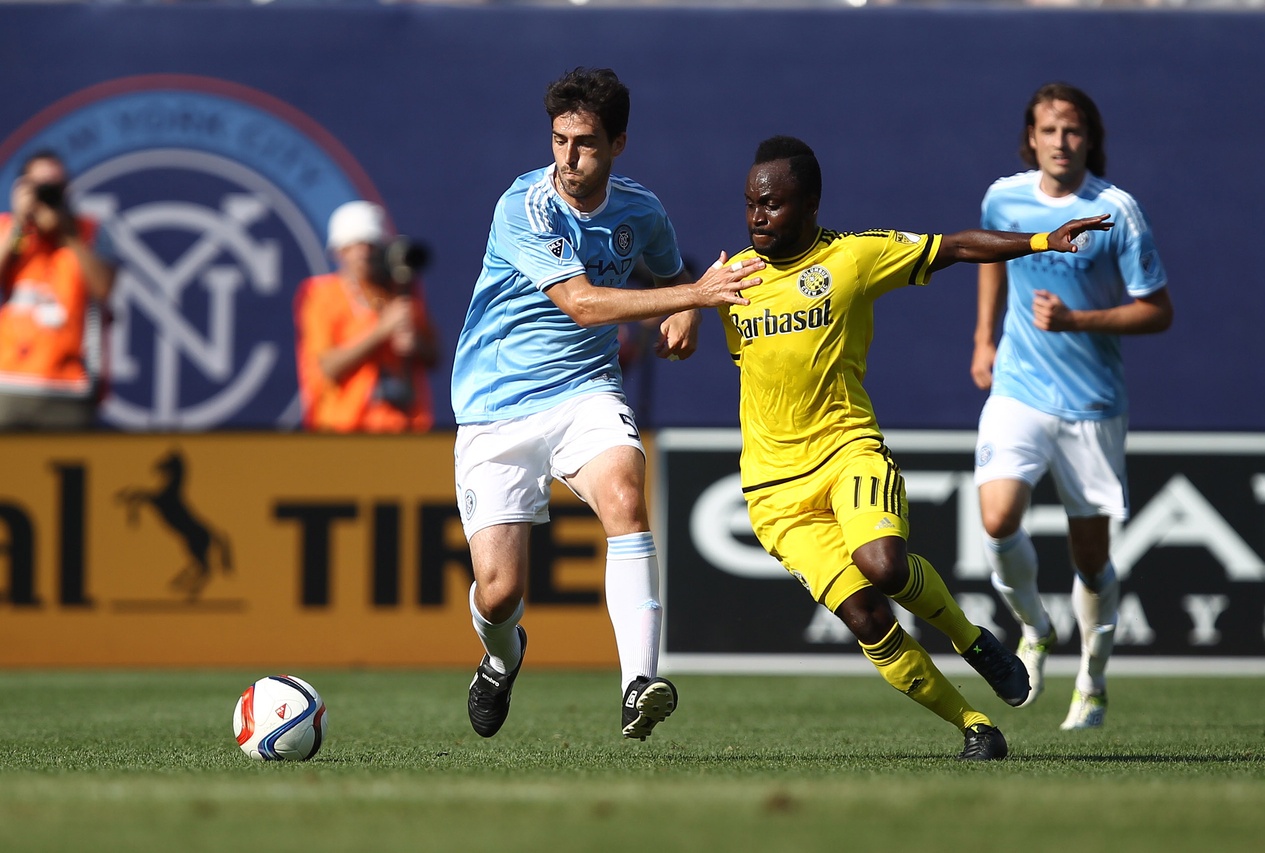 Photo by Danny Wild / USA Today Sports Images
By MICHAEL PENG
NEW YORK — New York City FC's playoff hopes took another hit on Saturday, while Columbus Crew can start telling their fans to save the date once the regular season ends.
A 83rd-minute goal by substitute Justin Meram proved to be the game-winner as Columbus Crew defeated NYCFC, 2-1, Saturday afternoon at Yankee Stadium, 10 days after the two sides played to a 2-2 draw in Columbus.
The win vaulted the Crew into second-place in the Eastern Conference with 41 points as of the end of the match. NYCFC continues to be on the outside looking in, standing in seventh place with just 28 points.
Federico Higuaín opened the scoring in the 10th minute on Columbus' fifth corner of the game at that point. Will Trapp whipped a cross into the box and found an unmarked Higuaín, who headed the ball that bounced past NYCFC goalkeeper Josh Saunders for an early lead.
Higuaín's score marked the sixth consecutive time NYCFC has conceded a goal first, dating back to its 3-2 loss to the Montreal Impact on Aug. 1.
Andrew Jacobson, however, managed to equalize about 20 minutes later on a stunner.
The 29-year-old midfielder received a pass from forward Patrick Mullins after the latter brought down a long pass from the backfield by Angelino. He took one touch and unleashed a strike from about 25 yards out that beat Columbus goalkeeper Steve Clark to the bottom-right corner.
It was the first goal of the season for Jacobson, who joined NYCFC via a trade from the Houston Dynamo in 2014 and played 14 games for Norwegian club Stabæk IF on loan prior to the expansion club's inaugural season.
The two sides continued to trade punches and create chances to find their respective go-ahead goal, but neither side was able to break through until Meram's late goal.
Meram, who was brought on in the 57th minute, took a pass from Higuaín near the left flank and dribbled into the box. He curled a roller that got past Saunders and just inside the right post, silencing the home supporters among a sellout crowd of 30,018 in the Bronx.
Earlier in the week, NYCFC head coach Jason Kreis said every remaining game for his club in the regular season will be treated as a "cup final." There will be seven more chances left for NYCFC, with the next one coming on Sept. 12 on the road against FC Dallas. Columbus, meanwhile, will play the same opponent next Sunday at home.