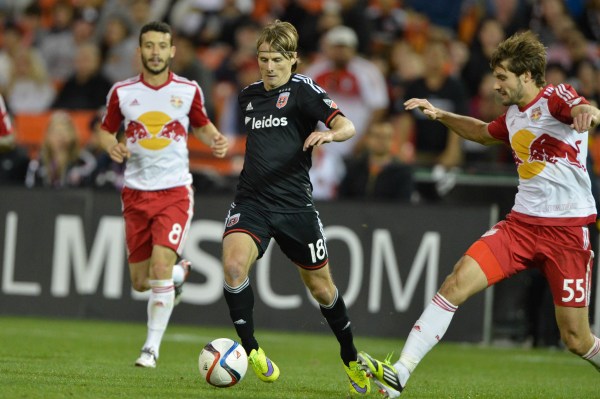 Photo by Tommy Gilligan/USA Today Sports
By RYAN TOLMICH
MLS rivalries take centerstage yet again this weekend, with several boasting major playoff implications.
In the East, the New York Red Bulls and D.C. United are set to collide in a battle with major conference and Supporters' Shield implications. Meanwhile, north of the border, Toronto FC hosts the Montreal Impact in a potential playoff preview.
Out West, the action is headlined by a California Classico, as the surging LA Galaxy visit playoff hopefuls the San Jose Earthquakes. Another club looking to improve its standing in the playoff picture is the Seattle Sounders, who are up against the wall heading into Saturday's Cascadia clash with the Portland Timbers.
Elsewhere, the Vancouver Whitecaps visit the Houston Dynamo, New York City FC looks to turn its season around against the Columbus Crew, and Real Salt Lake aims to move closer to postseason contention by beating FC Dallas.
Here's a closer look at this weekend's MLS action:
SAN JOSE EARTHQUAKES vs. LA GALAXY (Friday, 11 p.m., UniMas)
Friday's California Classico pits two of the league's hottest teams against one another.
The LA Galaxy are on a four-game winning streak, riding the hot feet of Giovani Dos Santos and Robbie Keane, the latter of which has scored 12 goals in seven games. Entering with a one-point lead in the Supporters' Shield race, the Galaxy face the rival Earthquakes, a team that has battled its way into a tie for the last postseason position with a game in hand. Now with seven of the team's final nine games at home, the Earthquakes have all the makings for a run, one that could include a major statement with a win over the red-hot Galaxy.
NEW YORK CITY FC vs. COLUMBUS CREW (Saturday, 4 p.m., MLS Live)
New York City FC's time is rapidly running out.
Eight games remain for NYCFC to make a run towards a debut postseason berth and, as things stand, the team is tied with a Montreal Impact side with four games in hand. That makes every point vital, especially those against teams above them, such as Saturday's opponent. With or without Frank Lampard, Saturday's game is as must-win as it gets for NYCFC, which will need to top a Columbus Crew team that is looking to secure a first-round bye.
TORONTO FC vs. MONTREAL IMPACT (Saturday, 4 p.m., MLS Live)
The Montreal Impact have games in hand on the teams around them in the standings, but they will have to do something unprecedented in order to truly be in advantageous position.
The Impact have yet to top Toronto FC at BMO Field, and will have to do so Saturday without Ignacio Piatti due to injury. Making the task even more difficult is TFC's recent form, as the club thrashed Orlando City, 5-0, last week. A win isn't a must for either side in this potential playoff preview, but a victory could go a long way towards sealing a first-round bye in the postseason.
PHILADELPHIA UNION vs. NEW ENGLAND REVOLUTION (Saturday, 7 p.m., MLS Live)
Both the Philadelphia Union and New England Revolution are streaking, despite being on opposite ends of the playoff spectrum.
The Revs, unbeaten in four, remain in the playoff picture as Jermaine Jones rounds into form, but appear destined for an opening-round match-up if they could hold off those behind them. The Union, on the other hand, are unbeaten in three, but will need to go on a major run to leap back into postseason position. That challenge will be made a bit more difficult by the absence of Maurice Edu, although a potential Andrew Wenger return could make things a bit easier.
ORLANDO CITY vs. CHICAGO FIRE (Saturday, 7 p.m. MLS Live)
Orlando City is in quite a rut.
Spiraling through a 1-6-1 stretch, Orlando City has thrown away a playoff position in recent weeks. Even the unflappable Kaka has shown levels of frustration, especially in last week's 5-0 drubbing against Toronto. That makes the lowly Fire an ideal opponent for Kaka and Co., even if the Fire are now riding a confidence-boosting win after defeating the contending New York Red Bulls in midweek action.
HOUSTON DYNAMO vs. VANCOUVER WHITECAPS (Saturday, 9 p.m., MLS Live)
Fresh off winning the club's first trophy, the Vancouver Whitecaps can aid to their pursuit of another one with a win Saturday over the Houston Dynamo.
The Whitecaps captured the Canadian Championship this week and are in full contention for a second honor in the form of a Supporters' Shield. One point out of the Shield race with a game in hand, 2015 could turn into a banner year for the Whitecaps, who face an opponent also coming in off a quick turnaround following the Dynamo's midweek defeat to the Colorado Rapids.
FC DALLAS vs. REAL SALT LAKE (Saturday, 9 p.m., MLS Live)
FC Dallas is currently holding a Western Conference playoff spot, while their opponent, Real Salt Lake, yearns to do the same.
RSL is just three points out of the final playoff spot, one that is slightly flattering considering some of the team's struggles throughout the season. Still, RSL has plenty of hope in a crowded picture, and a win over an out-of-form FC Dallas could be a defining moment. Entering Saturday, FCD has lost three straight, and are now threatened with falling further and further down the Western Conference pecking order.
COLORADO RAPIDS vs. SPORTING KC (Saturday, 9 p.m., MLS Live)
Western Conference contender Sporting Kansas City is on a bit of a downswing.
Having lost the team's past two games by a combined 8-2 scoreline, Sporting KC will need to right the ship in an effort to make a push towards the top of the conference. With multiple games in hand, Sporting KC remains in great position to make a run for the league's top spot, but will now have to contend with a Rapids team that may be starting something following a midweek win over the Houston Dynamo.
SEATTLE SOUNDERS vs. PORTLAND TIMBERS (Sunday, 4 p.m., ESPN 2)
This weekend's Cascadia clash could go a long way towards determining the Western Conference playoff picture.
Mired in a summer-long rut, the Seattle Sounders are in danger of going from potential Supporters' Shield winner to possible playoff absentee. Holding on to the conference's final playoff berth, the Sounders, who could see the return of Clint Dempesy and several other injured stars, can leap up and over the rival Portland Timbers with a win.
NEW YORK RED BULLS vs. D.C. UNITED (Sunday, 7 p.m., MLS Live)
Sunday's clash between the New York Red Bulls and D.C. United has even more meaning than usual.
Bitter rivals for years, Sunday's contest at Red Bull Arena is about much more than bragging rights. It's about a potential Supporters' Shield and status of top dog in the East. The Red Bull sit five points behind D.C. in the Eastern Conference standings, with both in legitimate striking distance of the Supporters' Shield as the season heads into September. In a true six-pointer on the road, D.C. will be facing further adversity due to the probable absences of Bill Hamid and Fabian Espindola due to injury.