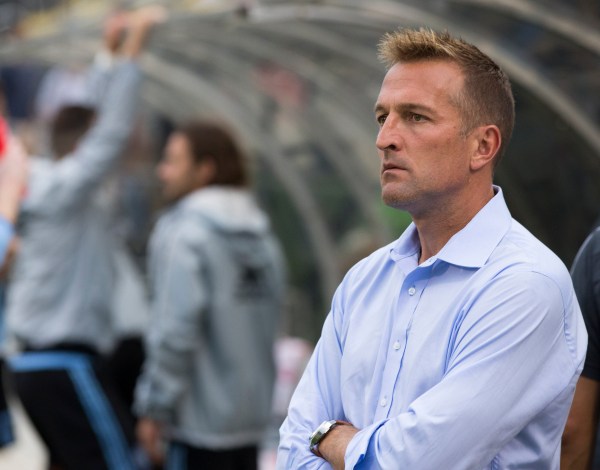 Photo by Greg Bartram/USA Today Sports
By FRANCO PANIZO
NEW YORK — Before he even began fielding questions on Saturday, Jason Kreis looked visibly disappointed in the press conference room.
It did not take him very long for him to express just how frustrated he really was.
New York City FC saw its chances of making the postseason become slimmer on Saturday afternoon following a 2-1 home loss to fellow Eastern Conference club Columbus Crew. NYCFC played better for longer stretches than it had in recent matches, but still was not able to find a way to pick up three points.
Justin Meram scored a late winner after the Crew capitalized on an NYCFC turnover in its own final third, leaving the expansion club in a bigger hole than it was in when the day started. New York City now has even fewer games to figure out how to move above the red line, and will have to wait until after its bye next week to return to the field.
For Kreis, the latter is not necessarily a bad thing. The NYCFC head coach thinks his team needs to take "a mental step back" before this final stretch of games, especially since some of his players are apparently lacking the necessary motivation right now.
"After that break we need to work really hard and we need to show — the players need to show — if they want to be here and they want to be a part of this, because I know the coaching staff does," Kreis said. "I know the coaching staff cares an awful lot about this club and the job that we're attempting to do, but I'm not so sure that all the players do."
While Kreis did not name anyone in particular, his comments mark the second straight week in which a member of NYCFC has made pointed remarks about the status of the team. David Villa, who did not speak to the press on Saturday, said after last week's lopsided loss to the LA Galaxy that he needed teammates around his side who could help him.
NYCFC players in the locker room, however, disagreed with the sentiment from Kreis that some of them lacked motivation. Midseason acquisitions like Designated Players Frank Lampard and Andrea Pirlo did not see that, nor did others like Patrick Mullins who have been around since the beginning of the year.
"I think managers and players should be emotional after defeats at times and from where I've been, obviously I'm a fairly fresh face around the place, there's a desire to be here," Lampard said. "Every squad is the same that I've been in, and there's some players that are not playing and they find it difficult. The players want to play, but as an all-around spirit in the camp, I don't see a problem at all.
"You'd have to ask every individual, but I don't feel that. All I feel is that something is off on the pitch, that we are not getting the results, not getting the consistency. For me, it's not for the (lack) of trying."
Added Mullins: "I look around, and I see guys that want to be here. I think everyone's heart is in the right place, and I think that's just a coach that just wants more out of his players. I respect him obviously for saying that and I'm not going to back down from it."
Pirlo, for his part, sounded almost surprised that such a scenario could be presented.
"I would be very unhappy if that were true because if the people that are actually playing are not having fun and don't want to be there, there are the reserves, the ones that are not playing, that really would love to play instead," Pirlo said through a translator. "I think it's important when you play to have fun, to really want to be there, so that you can do the best, and you can give the maximum you can to the team and the game."
In any case, NYCFC needs to sort things out quickly if it wishes to have any shot at preventing its debut season from being deemed a failure. The club will likely need to win most, if not all, of its remaining games to have a realistic chance of moving above the red line, but even that might not be enough given the current circumstances.
"Seven games left, 21 points available," Kreis said. "I think there still has to be a glimmer of hope, but at the moment it's tough to see it."