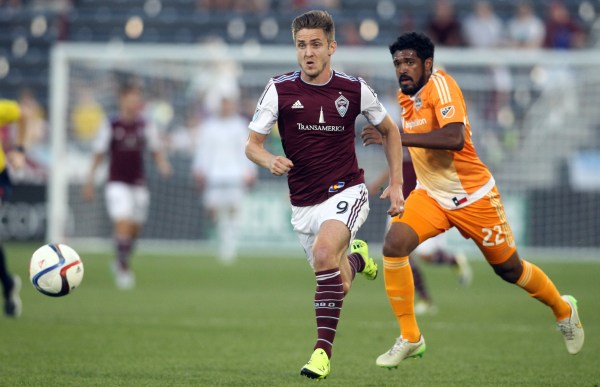 Photo by Chris Humphreys/USA Today Sports
By RYAN TOLMICH
The Colorado Rapids knew nothing but a win would keep the team's playoff push alive, and a win is exactly what they got Wednesday night.
Led by a late Kevin Doyle winner, the Rapids stayed alive in a now-cluttered Western Conference by topping the Houston Dynamo, 2-1, Wednesday night at Dick's Sporting Goods Park.
With the win, the Rapids move within five points of the  final playoff position while maintaining a game in hand on the sixth-place Seattle Sounders.
The game's crucial moment came with just 21 minutes remaining, as Doyle provided the goal the Rapids so desperately needed with a goal worthy of the occasion.
Played in by Dillon Serna, Rapids defender Sean St. Ledger approached the endline with space dwindling. Playing a blind first-time ball into the box, St. Ledger's cross was headed in by Doyle, who leapt up and over his defender's back to head home and earn his side all three points.
Doyle's finish, his third of the season, broke a 1-1 deadlock that stemmed from a pair of first-half penalty kicks.
First up were the Rapids, who took the lead in the 20th minute on a penalty kick finish from Vicente Sanchez following a handball in the box from Dynamo defender Alex. Then, 15 minutes later, a Bobby Burling handball saw the Rapids relinquish the lead as Brad Davis nailed home a finish from the spot to even the score.
The level scoreline remained throughout a majority of the second half before Doyle's opportunity yielded all three points for the hosts.
With the win, the club's second in five days after this past weekend's victory over the Chicago Fire, the Rapids leap right back into the playoff race ahead of a crucial home clash with Sporting KC on Saturday. The Dynamo, who sit one point ahead of the Rapids with an additional game played, will look to rebound that same day when the club hosts the Vancouver Whitecaps.