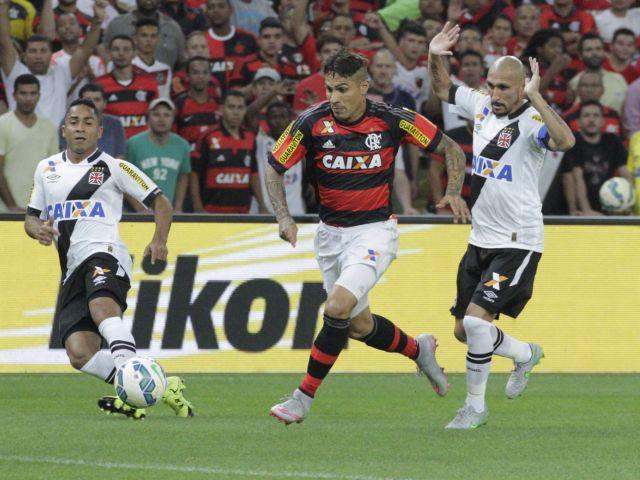 By DAN KARELL
Peru could be without one of their top players when they take the field on September 4 against the U.S. Men's National Team.
Just 16 minutes into Flamengo's Copa do Brazil match against Vasco da Gama, forward Paolo Guerrero was stretchered off the field after suffering what was later determined to be a sprained right ankle. Guerrero, 31, has been a key member for Flamengo since arriving at the massive Brazilian club last May, starting seven league games and scoring three goals.
Formerly of Bayern Munich and Hamburg, Guerrero has more than 60 international caps to his name and if fit, would likely start against the USMNT next week. According to Flamengo's official Twitter account, Guerrero will be re-evaluated on Thursday to find the full extent of his injury.
Here are some more stories to kick off your Thursday:
DE BRUYNE CLOSING IN ON MOVE TO MANCHESTER CITY
If the reports out of Germany are true, Manchester City are prepared to splash the cash to bolster their squad.
According to the Wolfsburger Allgemeine Zeitung, Manchester City and VfL Wolfsburg have agreed on a €74 million ($83.14 million) transfer fee for last season's Bundesliga player of the year, Kevin De Bruyne. The report adds that another €6 million ($6.74 million) could be headed to Wolfsburg from Man City as transfer add-ons.
But speaking at a press conference Thursday, Wolfsburg sporting director Klaus Allofs denied that an agreement had been reached.
"There is no agreement with Manchester City," Allofs told reporters. "After we could not persuade Kevin to stay with us, we decided to go in negotiations with Manchester City. This has also taken place. But currently it is still player of VfL Wolfsburg."
The 24-year-old Belgian international scored ten goals and had 20 assists last season to help lead Wolfsburg back into the UEFA Champions League.
THIAGO SIGNS EXTENSION WITH BAYERN
Bayern Munich have locked up another one of their talented young players.
The German champions announced on Thursday that midfielder Thiago Alcantara has signed a two-year contract extension with Bayern, taking his contract through June 2019. The 24-year-old has struggled mightily since joining Bayern in 2013 with numerous injuries, but when he's played, he's shown his talent.
"We're delighted Thiago has decided to stay with FC Bayern for the long term," Bayern chairman Karl-Heinz Rummenigge said in a press release. "He's young and an important player for the future of our club."
Since returning to full fitness last April from a serious knee injury, Thiago has remained healthy and featured regularly for the first team squad.
QUICK KICKS
Sevilla have announced the signing of free agent forward Fernando Llorente on a three-year contract with a €20 million release clause. (REPORT)
Joachim Löw will reportedly call up Liverpool's Emre Can for their September qualifying matches. (REPORT)
Argentine forward Fernando Cavenaghi nearly signed with Sochaux before eventually joining APOEL in Cyprus. (REPORT)
In addition to losing Cavenaghi, River Plate holding midfielder Matias Kranevitter is set to complete a transfer move to Atletico Madrid. (REPORT)
Kevin Nolan and West Ham United have mutually parted ways after four seasons with the club. (REPORT)
————–
What do you think of these reports? How big of a loss would Guerrero be to Peru's lineup? Do you see De Bruyne fitting in in the EPL? Do you see Thiago having a big impact this season?
Share your thoughts below.