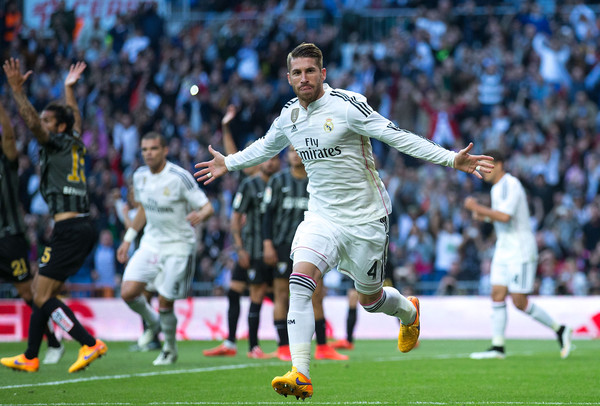 By DAN KARELL
Manchester United's pursuit of Sergio Ramos has come to a close.
According to a report in The Guardian, Real Madrid has offered Ramos a new five-year contract worth €45 million after taxes. The contract offer is €2 million per year less than Man United's reported offer, but Madrid president Florentino Perez has ruled out a sale at all cost.
The contract hasn't been finalized but an announcement on it is expected by next week.
Ramos reportedly told Real Madrid officials in July that he wanted to leave the club, and Man United followed that up with two offers. Both were soundly rejected.
Ramos has been with Real Madrid since the 2005/2006 season.
Here are some more stories to kick off your Thursday:
GÖTZE DECIDES TO STAY WITH BAYERN
Mario Götze has reportedly come to a decision on his club future.
At a press conference ahead of Bayern Munich's first league match of the season, club chairman Karl-Heinz Rummenigge stated that Götze has decided to stay at the German champions.
"He's told the club that he wants to stay here," Rummenigge said at a press conference. "If nothing new should arise, then that puts a lid on it.
"At the end of the day, it's up to Mario, and I've told him this. Of course there's a lot of competition in his position."
Following Bayern's signing of Arturo Vidal, there were reports out of Italy that Juventus had set their sights on Götze as a possible replacement, or even just a new addition to the team.
Götze, coming off a summer where he scored the game-winning-goal in the World Cup final, scored nine goals in 32 Bundesliga games, the most club games in a season he's ever played.
WANCHOPE RESIGNS FOLLOWING CLASH WITH SECURITY
Costa Rican legend Paulo Wanchope was put on the chopping block after video emerged of him getting into a brawl earlier this week with a security guard.
On Wednesday, Wanchope announced his resignation as head coach of the Costa Rica National Team, citing his poor behavior.
"We're all human and sometimes we can lose our senses," Wanchope said at a press conference, according to the Tico Times. "And yesterday I lost my senses disgracefully."
Wanchope, who scored 45 goals in 73 appearances for Los Ticos, took over the reigns of the national team after Jorge Luis Pinto's departure following the World Cup. He was the interim manager from July through the end of January, when he was confirmed as the full time head coach.
However, Wanchope's time as the full head coach has been poor. The Ticos haven't won a match in 2015, with five draws and four losses in nine matches.
QUICK KICKS
PSG full back Lucas Digne is set to complete a season-long loan to AS Roma with the option to buy. (REPORT)
Southampton announced the signing of former Chelsea and Barcelona midfielder Oriol Romeu on a three-year contract. (REPORT)
Norwich City have reportedly made a £4.5 million offer for AS Roma forward Mattia Destro. (REPORT)
Felipe Melo's proposed more from Galatasaray to Inter Milan is reportedly off. (REPORT)
—————
What do you think of these reports? What do you think of Ramos' new contract? Do you see him leaving Madrid next summer? Do you believe Götze is making the right decision for his career?
Share your thoughts below.