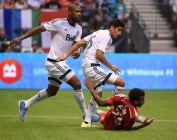 Photo by Anne-Marie Sorvin / USA Today Sports Images
By ADAM TROXTELL
The Vancouver Whitecaps took their chance and stymied an FC Dallas attack to emerge victorious on Saturday.
Both teams might feel they left a few goals up for grabs in a 1-0 Whitecaps win at BC Place. For the first half and most of the second, both showed plenty of intent to find the back of the net.
But most of the time, the final pass or shot never materialized. The only one belonged to Cristian Techera, who applied a back-heel finish to Kekuta Manneh's low cross in the 32nd minute.
They managed four shots on target between them in the whole match, with neither defense giving too much away. Even when Techera, Manneh, or Fabian Castillo managed to cut their way through, a decisive tackle was there to meet them.
The Whitecaps moved to the top of the overall MLS standings, ahead of D.C. United, though the LA Galaxy will have something to say about that in their game on Sunday. On the flip side, FC Dallas seems to have hit a dry spell in late summer, suffering its third straight defeat to sit fifth in the West.
Last time these teams met, FCD sent the Whitecaps out of the 2014 postseason. The Whitecaps clearly wanted to make that right.
With both teams stringing together attacking moves throughout the first half, it was only a matter of time for a goal to fall. When it did, the Whitecaps benefited.
Manneh dribbled from left to right trying to find a way in, finally getting a ball across goal. Techera was there to meet it at the top of the six-yard box for a back-heel finish. The Whitecaps came close again minutes later, but this time goalkeeper Jose Gonzalez smothered the ball before Octavio Rivero had a chance to turn.
Michael Barrios had FC Dallas' best chance in the 63rd minute. The Colombian attacker had the ball fall to his feet with a shooting lane, but the low, rolling strike went straight to David Ousted.
Beyond that, the Whitecaps were mostly effective at keeping Castillo, Perez and Rolando Escobar limited in their touches. The visitors were able to string together a few nice passes, but the decisive move was always swallowed up by the back line.
FC Dallas has a chance to steer its ship in the right direction against Real Salt Lake at home on Saturday. The Whitecaps get another Texas opponent when they head to Houston and play that same day.