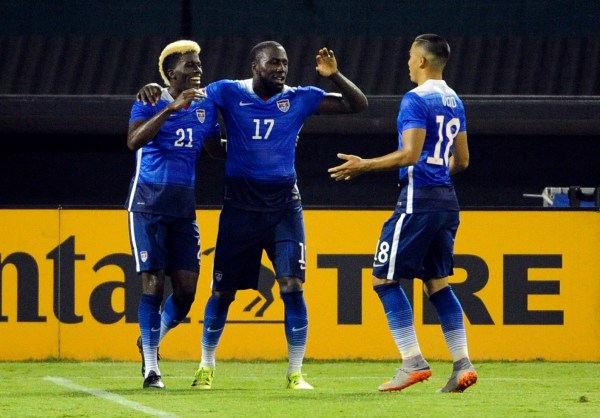 photo by Brad Mills/USA Today Sports
By FRANCO PANIZO
WASHINGTON — It was not a perfect performance, but it was a strong step in the right direction and good response to an early CONCACAF Gold Cup exit.
Jozy Altidore reminded U.S. Men's National Team fans what he is capable of, as he scored twice to help the Americans topple Peru, 2-1, at RFK Stadium on Friday night. Altidore, like the U.S. as a whole, struggled in the first half, but responded with a much stronger second stanza that saw him earn a penalty kick, score on a rebound, and be in the right place at the right time to find the winner.
Altidore's game-winning performance came in a week in which U.S. head coach Jurgen Klinsmann gave positive reviews about how the 25-year-old forward was training, and in his first international game since seeing his Gold Cup campaign cut short because of struggles.
It also happened with Altidore serving as the U.S. captain, something which may have helped spur him on against the Peruvians.
"When he has that honor and has that privilege to be the captain, he is full of pride," said Klinsmann, who cited Altidore's caps as the reason for giving the veteran the armband. "It gives him something special. He's proud of that moment. He's coming from a little bit of a rough time at the Gold Cup and now getting back into rhythm with Toronto and coming off the bench here and there.
"The hope was that he could really enjoy it, and we'll see how long that goes."
U.S. fans might want to see Altidore be the captain again on Tuesday against Brazil, because it does appear to help inspire him a little more.
"It's amazing," said Altidore. "It's so special to represent a country like ours and to do that at this stage, the highest level, it's an incredible feeling. Every time I get to do it, it's a memorable one for me and I never forget each time that I've worn it."
Altidore might remember this match, but likely not because of his or the Americans' first-half showing. Peru was the better team during the opening 45 minutes, winning the possession battle and using its flair and technical abilities to cause the U.S. plenty of trouble.
On the few occasions that Klinsmann's side did have the ball, it was left midfielder Gyasi Zardes who looked the most threatening. Altidore was nowhere near as menacing, but the tide started to shift late in the first half when the Americans began to find an attacking rhythm.
Altidore even forced Peru goalkeeper Pedro Gallese into a good save at the near post in the 42nd minute. It was a sign of things to come.
After halftime, the U.S. was much more lively and better with the ball, which allowed Altidore to better make use of his skills. He used his body well on several plays in the second half, including on the one in the 58th minute in which he flicked the ball over to himself before getting tripped up by centerback Carlos Zambrano.
Altidore had the ensuing spot kick blocked, but slotted the rebound home. He then helped set up his winner with a great through pass over the top to a darting DeAndre Yedlin. The ball eventually reached Zardes, who whipped in a cross that took a kind deflection before Altidore pushed it home for his 29th international goal.
"We're surprised that he went all the way through (the game) because I timed it and wanted to have Aron (Johannsson) come on for Jozy, but he was good," said Klinsmann. "That's a real good sign. It's just great to have him back."
Added midfielder Jermaine Jones: "People look always and say, 'Okay, the striker he scored two goals, he was the Man of the Match.' Then, sometimes it's like he maybe don't score and people say, 'Oh, today he's not good.'
"I know him now for a while and I know that he's always trying every game his best, and people have to understand to not only try to push him in something when he not scores. This is why I'm happy he scored."
For Altidore, the key is to now carry the momentum from this game over into a stiffer test vs. Brazil on Tuesday. Altidore will surely lead the front line again in that match, and another strong showing there should see him cement a starting spot at a position that Klinsmann had alluded to as being somewhat open at the start of this camp.
Barring injury, that would see him in the lineup for October's CONCACAF Cup clash with Mexico, a game he is eagerly looking forward to.
"Hopefully, it would be nice," said Altidore." I haven't gotten a chance to play in a lot of big games against Mexico, unfortunately for whatever reason, so hopefully I can get out there if I'm fit and the manager picks me. I hope I can help be the difference."
As Friday night showed, Altidore is still plenty capable of being just that.