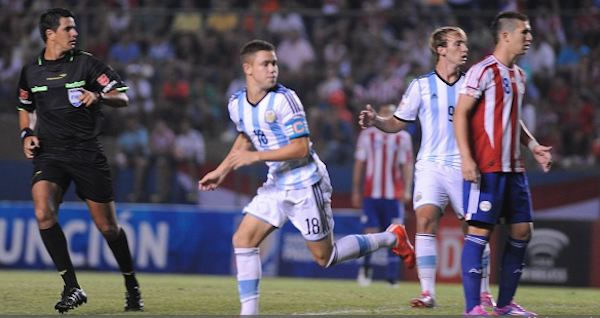 Anyone who has played the FIFA video game for an extended period knows that it can be aggravating to the point that you have an 'accident', but it is likely that no one's frustration can outdo the actual mishap that happened to an Argentina youth international earlier this year.
On his 17th birthday, no less.
Back on March 30 during qualifying for next month's Under-17 World Cup, teenage forward Tomas Conechny fell out of a hotel window while playing FIFA with an Argentina teammate. The two youngsters were up their usual antics of passing the time by having an ordinary gaming session, but this one became one they will never forget.
"I was leaning right on the window of the room when the glass suddenly broke and I fell out," Conechny, who is expected to play at the U-17 World Cup in Chile, told FIFA.com. "I had cuts all over my legs and one of my feet was quite cut up too. It was a shame and it stopped me from playing the last game against Ecuador.
"It could have been serious but it wasn't a big deal in the end. I can laugh about it now, but obviously it shook us all up at the time. What's incredible is that I actually missed a game because I was on PlayStation. Like I said, I must be the only national team player who's ever got injured like that."
There is still no word on if Conechny was losing his game at the time, but if he was, this takes rage quitting to a whole new level.
What do you think about Conechny's FIFA story? Convinced he was losing at the time of incident? What are some of your crazier moments playing the popular video game?
Share your thoughts below.