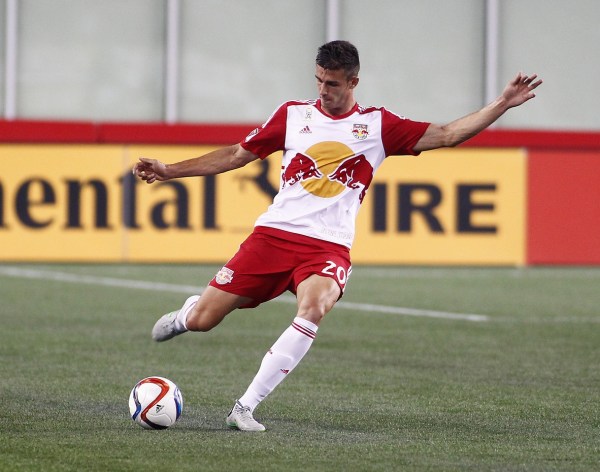 Photo by Stew Milne/USA TODAY Sports
By RYAN TOLMICH
The New York Red Bulls have witnessed that ongoing successes of Matt Miazga this season, but now the club will have to navigate through the negatives that come with the centerback's growing reputation.
Miazga was one of 20 players called in for the U.S. Under-23 Men's National Team's upcoming Olympic qualifiers, which are set to take place from Oct. 1-13. As a result, Miazga will miss up to three games for New York, including crucial clashes with fellow playoff contenders in the Columbus Crew and Montreal Impact.
A stalwart in the Red Bulls' defense, Miazga has made 22 starts for the club this season despite previously missing time in June due to the Under-20 World Cup.
"There was a lot of discussion. We wish that U.S. Soccer would have shown a bit more flexibility," Red Bulls head coach Jesse Marsch said regarding Miazga's call-up." They didn't, which meant that we had to make a decision on whether to let him go or not. We decided to let him go because we felt that this was an important decision for him and we knew he was excited about the opportunity as well.
"It's not easy to lose him, but we're healthier now at that spot so we're a little bit deeper and have more guys that know what the game will be like. It won't be easy to lose Matt, but specifically Ronald (Zubar) will be ready to step in."
Zubar's health comes at a vital time for the Red Bulls. Heralded as one of the club's key signings this past offseason, Zubar has fought various injuries throughout the season. Making just four starts all season, the Frenchman has been limited in his ability to contribute.
Zubar, however, does appear to be rounding into form as the season reaches the homestretch. Subbed on in the past three games, Zubar could play a vital role for the Red Bulls going forward, as the club looks to turn its already-clinched playoff berth into a potential Supporters' Shield run.
"I think he's as healthy as he's been," Marsch said. "He's fit. He's strong. He even had a little incident today, but because he's fit and strong, there was no issue. I think he'll be ready to go."