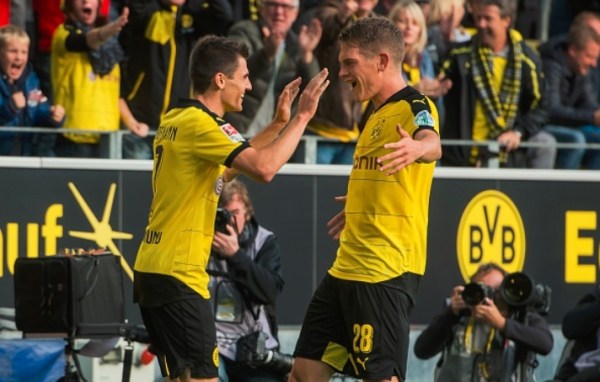 By SBI SOCCER
After disappointing 2014 Bundesliga campaign, Borussia Dortmund broke a record while continuing its remarkable start to the season Saturday.
Thomas Tuchel's side has started off better than any Bundesliga side in history, as Dortmund's 3-0 win against Bayer Leverkusen gave the team its fifth win in five league games.
Dortmund's win streak stretches beyond the Bundesliga, though, as the team has now won 11 out of 11 competitive matches in the 2015-16 season.
"We gave absolutely everything again today, as did the fans," Dortmund midfielder Julian Weigl said following Saturday's game. "Obviously it's a really great feeling to be able to celebrate together. You want that as often as possible."
Thomas Tuchel took over for former boss Jurgen Klopp during the summer, and he and the team have not looked back since. Dortmund will try to continue to break the Bundesliga win record Wednesday when it meets TSG Hoffenheim.
Here are some more news and notes:
ARSENAL BOSS WENGER SAYS COSTA IS KNOWN TO INSTIGATE
Following Saturday's derby defeat, Arsenal head coach Arsene Wenger was not a happy man, and his anger was not limited to either team.
Chelsea defeated Arsenal by a scoreline of 2-0 Saturday, but after the match, the main talking point surrounded the sending off of Gabriel Paulista. Wenger thought the decision by referee Mike Dean to send his defender off was a rash one because Diego Costa was the one to provoke the situation.
"I wouldn't like to be Mike Dean tonight because I cannot understand the situations. Twice (Diego Costa) should have been sent off," Wenger told BT Sport 1 after the loss. "Look at the situation well before the cross comes in, he hits (Laurent Koscielny) in the face on purpose.
"He makes a fuss of it. In every game there is aggravation but he gets away with it because of the weakness of the referee. We are guilty because we gave in on that and responded to it. We knew before the game that he was only looking for that and when he touches him he goes down like he has been killed."
Despite Wenger's criticism, one man thought Costa played especially well Saturday.
"For me it was a fantastic performance (from Costa)," Chelsea head coach Jose Mourinho said. "He played the game like the game has to be played. He's fast, he's aggressive and he's good to recover the ball and offers us different qualities."
VAN PERSIE UPSET WITH BENCH ROLE AT FERERBAHCE
Despite making a multi-million dollar move from Manchester United to Fenerbahce in late July, Robin Van Persie is not currently happy with his new club.
The 32-year-old forward lost his place as the captain of the Netherlands in late August, and Saturday, he came off of the bench before scoring the game-winner for Fenerbahce against Bursaspor.
"To be honest, I am not very happy at this moment," Van Persie said following the match. "I was not happy that I started on the bench. I am fully fit, physically very well and able to play for 90 minutes. The only right answer I could give was with what I did: helping the team to get the victory."
Meanwhile, head coach Vitor Pereira defended his decision to start the Dutch international on the bench, but he is excited about how well he performed.
"The players can like or not like what I do, but I must take decisions. I am happy with Van Persie's performance after being brought on to the pitch," Pereira said. "It would be bad if he wasn't unhappy about being a substitute. This proves that he wants to play."
QUICK KICKS:
Turkey and Galatasaray midfielder Burak Yilmaz will miss one month with a hamstring injury. (REPORT)
Crystal Palace head coach Alan Pardew wants Zaha to be more consistent. (REPORT)
Marc Kosicke, Jurgen Klopp's agent, said the former Borussia Dortmund boss is not in line to take a coaching spot at Borussia Monchengladbach. (REPORT)