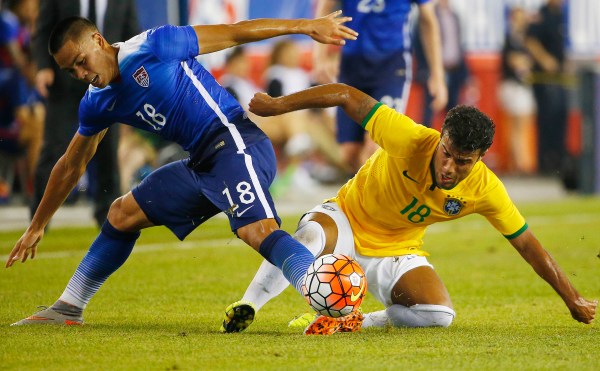 photo by Winslow Townson/USA Today Sports
By FRANCO PANIZO
FOXBORO, Mass. — This was not only a punch to the gut or a blow in confidence. It was just about the worst way to finish preparing for what's to come.
The U.S. Men's National Team played its final friendly on Tuesday before taking on Mexico in October in the CONCACAF Cup, and the result was a nightmarish 4-1 loss to Brazil. Even worse than the unflattering scoreline was the performance, which was largely flat and did little to convince the growing number of fans skeptical of the Americans' chances to pick up a win next month.
The post-game reflecting at Gillette Stadium was not much better. U.S. head coach Jurgen Klinsmann was once again reluctant to place blame on himself, choosing instead to point the finger at his players for struggling to cope with the technical Brazilians. Klinsmann even failed to acknowledge his role in starting Alejandro Bedoya out of position at defensive midfielder.
It was all in all – to borrow a word from Bedoya –  a "(crap)" night. Sure, the U.S. learned some lessons that could come in handy next month vs. Mexico, but the sooner this defeat is put in the rearview mirror the better.
Here are some of the biggest takeaways from the rout the Americans suffered:
KLINSMANN DID NOT PUT PLAYERS IN A POSITION TO SUCCEED
This one was obvious from the start.
After shutting down the notion of experimenting just days prior to the Brazil game, Jurgen Klinsmann went with a lineup that once again differed from other recent ones. Worse yet was the fact that several players were not put in positions to succeed, and it showed almost immediately.
The most obvious case was Alejandro Bedoya, who was asked to serve as a defensive midfielder so as to allow both Jermaine Jones and Michael Bradley (more on them later) to have more freedom in the attack. Bedoya not only struggled in a spot that was more natural for someone like Danny Williams, but was yanked out of the game by Klinsmann after just 36 minutes for Williams and then later given less-than-positive reviews by a head coach who is either tone-deaf or incapable of self-criticism (more on that later as well).
Another example was Jozy Altidore. Despite showing on numerous occasions that he plays better with a forward partner, Altidore was deployed as a lone striker. He unsurprisingly did not fare well, starved of service for much of his 57-minute shift and left to fight mostly for 50-50 balls that still did not yield much when he won them due to the lack of numbers around him.
It's true that Klinsmann was left shorthanded up top by the injury to Clint Dempsey, but he had Aron Johannsson and Bobby Wood both available on the bench. Pairing one of them with Altidore would have meant figuring something else out in the midfield, but it still likely would have given the Americans a better chance at coming up with some semblance of ideas in the attacking third.
Going with a centerback tandem of Michael Orozco and Ventura Alvarado was also a head-scratcher. Yes, John Brooks was unavailable because of a slight knock, but Omar Gonzalez was healthy and available. If Klinsmann wanted to see someone other than Gonzalez next to Alvarado, he could have easily gone with Geoff Cameron, who is finally playing at centerback these days for Stoke City but was used at right back against the speedy and technical Brazilians.
LACK OF IDENTITY REMAINS
This was not just a problem in the Brazil game. Heck, it was not just a problem in the Peru game either.
Even before the failed CONCACAF Gold Cup started, the U.S. has lacked a real identity. Formations and personnel have changed drastically over the course of 2015, and it has been very hard to tell what exactly the Americans are trying to do on the field. The game against Brazil only emphasized this point.
Are they looking to play a possession game? Do they prefer to be more direct and counterattack with the speed they have on the wings? Is the high press still a preferred tactic or is it more of a priority to stay organized and compact?
There might be answers to those questions, but you'd be hard-pressed to know based on what we are seeing on the field. Not only have the Americans looked out of sorts tactically, but they have also seemed to lose a bit of the hard-working mentality and never-say-die attitude that have been staples of the squad for so many years. It's pretty much up to Bradley and Clint Dempsey to have monster games these days. Otherwise, the U.S. has a hard time figuring out how to come out on top.
That goes against the idea of having a "proactive" style of play, but that buzzword has peculiarly and perhaps not coincidentally gone missing for much of these last few months. If Klinsmann is ready to put that approach on hold, that's fine. He just needs to figure out something that works, and stick with it for the sake of consistency.
BRADLEY-JONES DILEMMA PERSISTS
If Bradley and Jones are both healthy come the Oct. 10 meeting with Mexico like they were vs. Brazil, many observers would agree that both should be among the first names penciled into the starting lineup.
How to effectively play them together is a big question that remains.
Bradley and Jones have played a lot of games together in the U.S. midfield in recent years, but there still is no real answer for how to pair them in the center of the park. Both veterans like to get on the ball and jump into the attack, and figuring out when each one of them does that while the other stays back has proven troublesome. It is seemingly why – like on Tuesday – Klinsmann has almost always had another player standing behind them, one who is more willing to stay put and do the dirty work for the entire 90 minutes.
Still, having a midfield triangle presents a problem of its own. It subtracts an attacking option, and when you consider that Dempsey is expected to return up top next to Altidore in the CONCACAF Cup, removing an advanced position for a defensive one seems improbable.
In an ideal situation, Bradley and Jones could work like a pulley system as central midfielder partners and be disciplined enough to take turns attacking and defending. That is easier said than done, though, and Klinsmann's preference to have Bradley pull the strings as the playmaker only further complicates matters.
KLINSMANN'S REFUSAL TO SHOULDER BLAME WORRISOME
As far as team players go, Bedoya has to be near the top of the list. The veteran has played all across the midfield for the past two years, seen some time at fullback, and done it all without complaint.
That is why it is worrisome that Klinsmann was so critical about Bedoya's performance post-game when the coach himself should have at least shouldered some of the blame for fielding the midfielder out of position in a match against one of the best nations in the world.
What made matters worse was that Klinsmann passed up on another chance to fess up to his own mistakes by saying the tempo was too high for his players. He also indirectly criticized Cameron by saying how badly the Americans need usual starting right back Fabian Johnson healthy next month.
It goes without saying that such callous disregard for his players – especially in the public sphere – and lack of self awareness could really damage team morale and create resentment. In fact, let's not forget the far-too-coincidental tweet from 2012 that Altidore published and deleted shortly after an ESPN article in which Klinsmann criticized the forward was posted.
Klinsmann has never had a problem telling it how it is when talking about MLS, his players, or the state of U.S. Soccer. For the good of his locker room, it is time he starts doing the same with his own performances.