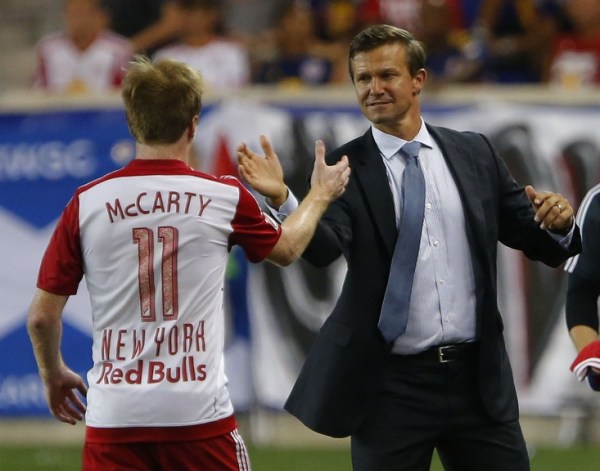 Photo by Noah K. Murray/USA TODAY Sports
By RYAN TOLMICH
The New York Red Bulls have locked down a playoff berth and emerged as Supporters' Shield favorites, but head coach Jesse Marsch isn't one to simply look back and smile at what has already been achieved.
The Red Bulls became the first MLS team to book a postseason spot this past weekend, and enter the homestretch with a favorable run towards a Supporters' Shield with one of the league's easier schedules. While the light of hardware at the end of the tunnel may prove all too concerning for many, Marsch insists its business as usual at Red Bull Arena.
As things stand, the Red Bulls' chief concern is locking down home-field advantage throughout the postseason. Having seen his side amass a 9-2-2 record at Red Bull Arena, Marsch is now looking to keep that mojo going, no matter the stakes, starting with this Friday's matchup with Orlando City.
"I think we have had that mentality and we know that games at Red Bull (Arena) are on our terms, mostly, I would say almost always," Marsch said. "It's just a matter of turning that into production and into goals and into wins. We've done a good job with that this year, but you can't take it for granted. We know that when we step out onto the field, we have to be committed to the way we play and, if we do, we give ourselves a good chance.
"Right now, we have Orlando on Friday, and we know that they're a desperate team," Marsch continued, "They need points, they need wins, so they're going to put out their absolute best effort, and they're in a good way right now and getting healthy. It's a dangerous team, a good team, and they outplayed us down there, so we have to expect a tough match for ourselves on Friday."
The Red Bulls have had plenty of tough matches and moments this season, but none seemed to phase a team that, at least at the beginning of the year, looked destined for a drop off.
Last season's Eastern Conference runners-up, the Red Bulls endured an offseason of controversy, as several of their biggest names in Mike Petke, Thierry Henry and Tim Cahill left. In their places came what appeared to be a series of outcasts and role players, leaving many doubting the team's postseason aspirations.
Yet here they stand, many months later, with the inside track to the league's regular season crown.
"We had a tough May," Marsch said, "but I think each time we've slipped up or been disappointed, we've tried to make sure that we're going to respond to it, and that we're not going to wallow in our miseries and worry about the mistakes. We're going to learn from our mistakes, and then next game step on the field and show that we're going to be even better and stronger.
"That's a big part of what we talked about early on in terms of what our team wanted to be about. We wanted to make sure that we were never afraid and never scared or never too concerned about mistakes. It was more about the overall process of what we're trying to do here."
That process continues Friday, as the Red Bulls take on an Orlando City team that is in full-on desperation mode.
Having previously topped the Lions earlier this season, the Red Bulls know full well what to expect from a team including Kaka and rookie sensation Cyle Larin.
Still, the focus remains on accumulating points, regardless of who or what is in the team's path. With the season-winding down and silverware all but within grasp, the Red Bulls are excited to continue the push for a payout from everything put into this season.
"If you asked us at the beginning of the season if we'd take this, we would have definitely taken it," Sam added of the Red Bulls' successes. "I can't be any happier, really. We're at the top, but we just have to take each game as it comes and see where we end up."