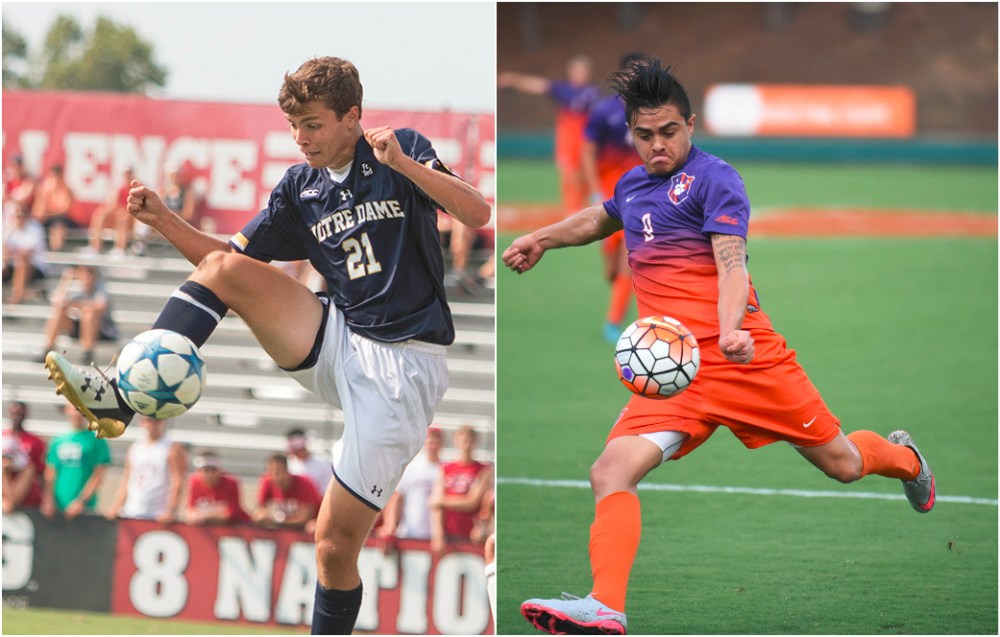 Notre Dame hasn't had an easy start to its 2015 season, and it's not going to be any simpler Saturday.
The SBI No. 1 Fighting Irish have had to take on Maryland, Indiana, South Florida and UAB, but a weekend showdown with No. 6 Clemson will surely test the consistency and resiliency of this veteran squad.
"We look forward to playing a strong program like Notre Dame this weekend," Clemson head coach Mike Noonan said. "The match will be challenging, but we look forward to getting conference play started."
After a good start to the season, Clemson has its biggest task to date: slowing down a Notre Dame squad that continues to produce solid outings. And with the ACC arguably being the toughest conference again this year, currently featuring five teams in the SBI Top Seven, a win against the Fighting Irish in South Bend would go a long way toward confirming that it is still top dog.
Meanwhile, No. 2 Creighton also its toughest contest of its young campaign, as the Bluejays travel to East Lansing to take on No. 24 Michigan State Sunday.
Among the SBI Top 25 schools, Bluejays forward Fabian Herbers leads all players with four goals in four games, and he will look to continue adding to that number against the Spartans.
Michigan State has performed well since losing to No. 16 Oregon State during the opening weekend, but after Creighton, the Spartans also host Maryland and Notre Dame in that order. Senior goalkeeper Zach Bennett became the career-leader in wins, 38, for the Spartans last weekend, but in order to continue adding to that figure, he'll need the help of the whole team against top competition ahead.
After a rough opening weekend, Akron jumped into No. 9 in the latest SBI Top 25 due to an impressive victory against Maryland.
However, it has another important matchup Friday against an undefeated Saint Louis side. The No. 17 Billikens defeated a productive Tulsa team in their first game of the season.
Senior Vince Cicciarelli leads Saint Louis with three goals. His goal-scoring abilities will compete with Zips midfielder Adam Najem, who has looked sharp to start the season. The junior has scored twice and was called in by U.S. Under-23 Men's National Team head coach Andi Herzog to attend August's College Identification camp.
Here is a rundown of where all of the top teams will be playing during the second weekend in men's college soccer:
THIS WEEKEND'S COLLEGE SOCCER SCHEDULE
FRIDAY
6 p.m. – (20) American vs. (21) Hofstra
6 p.m. – Yale vs. (HM) UC Santa Barbara
6 p.m. – Longwood vs. (HM) Navy
7 p.m. – Virginia Tech vs. (4) North Carolina
7 p.m. – (12) Providence vs. Brown
7 p.m. – (25) Syracuse vs. (14) Louisville
7 p.m. – (9) Akron vs. (15) Saint Louis (WATCH)
7 p.m. – (HM) Duke vs. (3) Virginia
7 p.m. – Marquette vs. (22) Omaha
7 p.m. – Cincinnati vs. (HM) Xavier
7:30 p.m. – (10) Maryland vs. Michigan
7:30 p.m. – (HM) California vs. UC Davis
8 p.m. – Duquesne vs. (16) Oregon State
8 p.m. – (HM) Charlotte vs. Winthrop
10 p.m. – (HM) San Diego vs. (HM) UC Irvine
SATURDAY
1 p.m. – (18) Georgetown vs. Radford
7 p.m. – (1) Notre Dame vs. (6) Clemson
7 p.m. – (13) Coastal Carolina vs. William & Mary
7 p.m. – Pittsburgh vs. (7) Wake Forest
7 p.m. – Loyola (MD) vs. (23) Maryland, Baltimore County (UMBC)
SUNDAY

1 p.m. – (HM) Penn State vs. (15) Indiana
1 p.m. – DePaul vs. (22) Omaha
1 p.m. – (20) American vs. Fairleigh Dickinson
1 p.m. – George Mason vs. (21) Hofstra
2 p.m. – (24) Michigan State vs. Creighton
3 p.m. – (HM) San Diego vs. SIUE
7 p.m. – UConn vs. (HM) UC Santa Barbara
7 p.m. – (HM) Old Dominion vs. Hartford
7 p.m. – (12) Providence vs. Columbia
7 p.m. – (HM) UC Irvine vs. San Diego State
8 p.m. – (19) UCLA vs. UC Riverside
8 p.m. – (HM) SMU vs. (5) Stanford
10 p.m. – (16) Oregon State vs. Cornell