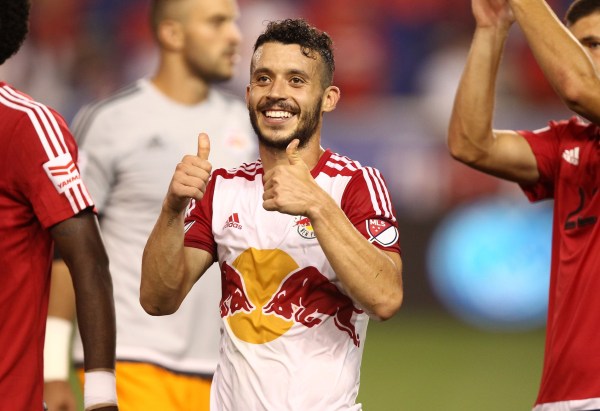 Photo by Danny Wild/USA TODAY Sports
By SBI SOCCER
The New York Red Bulls are officially the first MLS team to book a spot in this year's playoffs.
Led by goals from Felipe and Damien Perrinelle, the Red Bulls defeated the Portland Timbers, 2-0, Sunday at Providence Park to lock up a postseason berth while moving into first place in the Eastern Conference.
With the win, the Red Bulls sit one point ahead of the Columbus Crew despite having two games in hand, while also sitting level with the Vancouver Whitecaps for the Supporters Shield through one less game. The Timbers remain on 41 points, one ahead of the Earthquakes for the sixth and final playoff spot in the West.
Playing without captain Dax McCarty and fullback Connor Lade due to suspension, the Red Bulls put together a late first half flurry that would prove to be all that was needed.
Felipe got the Red Bulls started just two minutes before halftime, ripping a shot from 35 yards to give the Red Bulls the 1-0 lead. Left unmarked throughout his run, the Red Bulls midfielder finally opted to uncork a shot, besting Adam Kwarasey for the game's first goal.
Two minutes into first half stoppage time, Perinelle doubled the advantage through more lax Timbers defending. Following a lofted ball in from Sal Zizzo, Perinelle simply stepped up and one a simple header, heading a shot into the right side of the net to all but seal the three points.
The Timbers did have their chances, though, but were repeatedly stifled by the play of Luis Robles.
After kick-saving a Diego Valeri effort in the 28th minute, Robles' best series of the night came in the 87th minute, stopping a deflected Valeri free kick before pushing away a shot from Nat Borchers on the door step.
Following the victory, the Red Bulls return to action Friday for a matchup with Orlando City at Red Bulls Arena, while the Timbers' playoff push continues Saturday with a visit to the Columbus Crew.