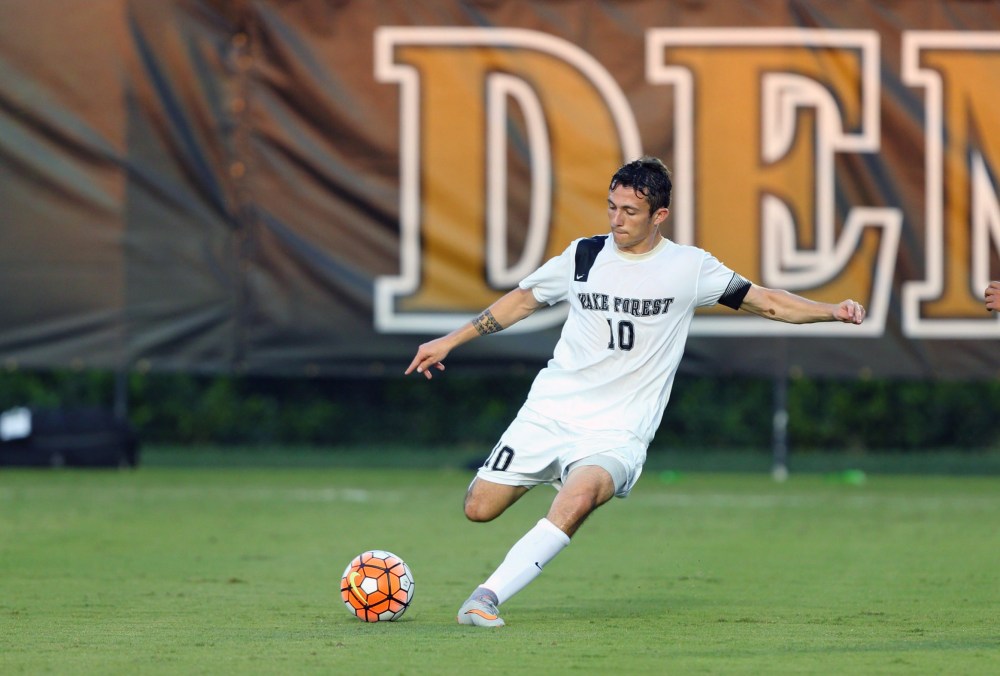 In a battle of SBI Top 10 foes, the spoils went to the visitors.
At least, they did Tuesday at FirstEnergy Stadium – Cub Cadet Field.
No. 8 Wake Forest has not had a relaxing two weeks, playing its fourth game in 10 days, but the Demon Deacons continued to build upon their impressive season with a 2-1 road win against No. 9 Akron Tuesday evening.
Sophomore midfielder Jon Bakero scored his third of the season for the Demon Deacons before Richie Laryea leveled the score for the Zips before halftime.
A common threat was the hero yet again for Wake Forest, though, as senior Michael Gamble scored his sixth goal of the year, tied for fourth across the nation, from the penalty spot for the win.
Meanwhile, in an important Big Ten battle, No. 15 Georgetown showed the nation that it is ready to be a serious contender in the 2015 campaign.
The Hoyas defeated No. 17 Maryland, 2-1, at home, thanks to goals from junior forward Alex Muyl and sophomore midfielder Arun Basuljevic. Sebastian Elney scored for the Terrapins, but again, Maryland couldn't do enough to see a result go their way.
"Maryland is a great team, they're really tough, they're really deep and they have some great players," Georgetown head coach Brian Wiese said following the game. "I'm very proud of the fact that we were able to win when we weren't really firing on all cylinders."
In college soccer's biggest upset of the week, Seattle defeated No. 7 Washington at home, 2-1. While Ian Lange scored for the Huskies, Hamza Haddadi and David Olsen tallied for the Redhawks.
Here is a rundown of all of the results from college soccer's top teams this week:
MONDAY
(2) North Carolina 2, North Florida 1. (RECAP)
VCU 0, (5) Virginia 1. (RECAP)
UAB 1, (10) Coastal Carolina 3. (RECAP)
UCLA 2, UC Santa Barbara 4. (RECAP)
TUESDAY
(1) Creighton 2, Northern Illinois 0. (RECAP)
Michigan State 0, (4) Notre Dame 4. (RECAP)
(9) Akron 1, (8) Wake Forest 2. (RECAP)
South Carolina 3, (13) Elon 1. (RECAP)
Gonzaga 2, (18) Oregon State 1. (RECAP)
(25) Syracuse 3, Binghampton 1. (RECAP)
Xavier 2, IPFW 0. (RECAP)
WEDNESDAY
(15) Georgetown 2, (17) Maryland 1. (RECAP)
(24) Indiana 3, Evansville 0. (RECAP)
THURSDAY
Seattle 2, (7) Washington 1. (RECAP)
UC Irvine 4, (23) Loyola Marymount 1. (RECAP)