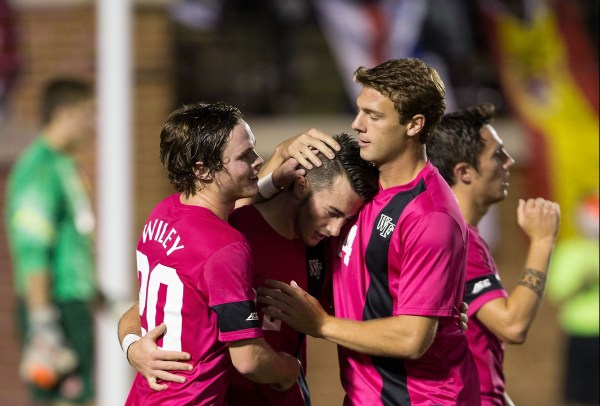 Photo by Brian Westerholt/Wake Forest Athletics
By AARON CRANFORD
Wake Forest may have suffered a disappointing home defeat against Elon last Tuesday, but the SBI No. 8 Demon Deacons looked like their former selves Saturday.
Wake Forest hosted and took down No. 25 Syracuse in convincing fashion, using goals from Michael Gamble, Jon Bakero and Jack Harrison en route to a 3-1 win.
Gamble, who leads the team with five goals through seven games, also provided an assist. The Demon Deacons have not had to rely on their star striker, however, as nine players have tallied a goal in 2015 to combine for a total of 17, seventh most by any team from across the nation.
Meanwhile, many of the nation's top teams found a way to squeeze out results during the weekend. No. 1 Creighton kept its perfect record intact, recording a 1-0 win hosting Tulsa, and No. 3 Stanford escaped with a late 1-0 vs. Davidson, thanks to a golden goal from U.S. Under-23 Men's National Team forward Jordan Morris.
Morris tallied his fourth of the season, which leads all on the Cardinal.
"Feels great," Morris told Stanford after he scored the game-winner in the 100th minute. "All credit to Davidson today. They played a great game. I think a staple of our team is we work hard until the last minute, even if that includes overtime."
Meanwhile, another West Coast team is starting to pick up steam, as California won its fifth consecutive contest Sunday. After losing to San Diego in their opener, the Golden Bears have outscored their opponents 14-3.
Here are Friday's results, and take a look at all of Saturday's and Sunday's top college soccer results below:
SATURDAY
(1) Creighton 1, Tulsa 0. (RECAP)
(8) Wake Forest 3, (25) Syracuse 1. (RECAP)
Charlotte 1, (12) Old Dominion 1. (RECAP)
Hofstra 2, (19) UNC Wilmington 1. (RECAP)
Omaha 3, Bradley 2. (RECAP)
Xavier 1, Bucknell 0. (RECAP)
SUNDAY
(3) Stanford 1, Davidson 0. (RECAP)
(6) Clemson 3, Brown 1. (RECAP)
(7) Washington 0, Harvard 0. (RECAP)
Ohio State 1, (14) Penn State 1. (RECAP)
West Virginia 1, (15) Georgetown 3. (RECAP)
(16) Denver 2, Utah Valley State 1. (RECAP)
(23) Loyola Marymount 1, Missouri State 2. (RECAP)
(24) Indiana 1, Rutgers 4. (RECAP)
California 3, San Francisco 1. (RECAP)
Western Michigan 1, Dayton 1. (RECAP)