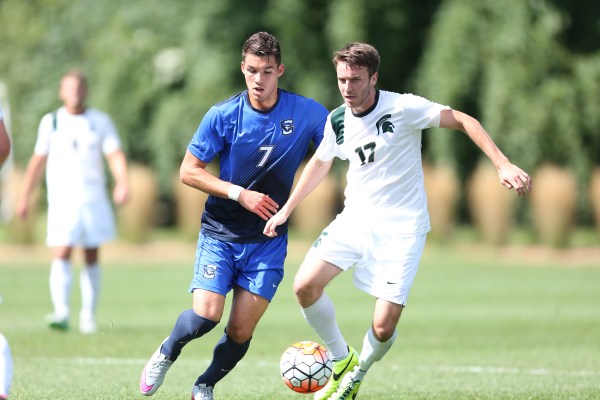 Photo by Matt Mitchell/Michigan State Athletics

By AARON CRANFORD
Junior Fabian Herbers can't be stopped to start the 2015 season, and Creighton is enjoying every second of it.
Herbers, who has three assists to his name this campaign, scored his fifth goal of the year to help the SBI No. 2 Bluejays to a 1-0 victory at East Lansing Sunday. With the win, Creighton is one of only seven teams across the country with a perfect record, which includes no ties or losses.
"It was one of those hard-fought away games where you need to figure out a way to win," Bluejays head coach Elmar Bolowich said following the game. "There wasn't a lot of flow or scoring opportunities."
"At the end of the day, you can't give them goals, especially a good team like Creighton," Spartans head coach Damon Rensing added after the match. "When you get your chances you have to take them."
In South Bend on Saturday, SBI No. 1 Notre Dame also squeezed out an important win, but it wasn't easy or pretty against No. 6 Clemson.
"That was always going to be a very difficult game," Notre Dame head coach Bobby Clark said after the team's first conference contest. "I thought we handled it well and knocked the ball forward well. Our two centerbacks, Patrick Berneski and Matt Habrowski, did very well and handled that."
Helping his side shutdown a high-flying Tigers attack, Habrowski was not only productive on the defensive end. He scored the lone goal of the match to give the Fighting Irish its fourth win of the season.
Meanwhile, No. 19 UCLA continues its rough stretch, losing to UC Riverside by a scoreline of 2-1 at home. No. 5 Stanford barely defeated a resilient SMU side, 3-2, thanks to Jordan Morris, who scored once and forced a penalty kick, as well as Brandon Vincent and Eric Verso.
Here are Friday's results, and take a look at all of Saturday's and Sunday's top college soccer results below:
SATURDAY
(18) Georgetown 5, Radford 2. (RECAP)
(1) Notre Dame 1, (6) Clemson 0. (RECAP)
(13) Coastal Carolina 2, William & Mary 0. (RECAP)
Pittsburgh 0, (7) Wake Forest 4. (RECAP)
Loyola (MD) 1, (23) Maryland, Baltimore County (UMBC) 0. (RECAP)
SUNDAY

(24) Michigan State 0, (2) Creighton 1. (RECAP)
(HM) SMU 2, (5) Stanford 3. (RECAP)
(12) Providence 1, Columbia 2. (RECAP)
(HM) Penn State 1, (15) Indiana 0. (RECAP)
(16) Oregon State 2, Cornell 0. (RECAP)
(19) UCLA 1, UC Riverside 2. (RECAP)
(20) American 3 Fairleigh Dickinson 4. (RECAP)
George Mason 1, (21) Hofstra 2. (RECAP)
DePaul 2, (22) Omaha 3. (RECAP)
(HM) UC Irvine 0, San Diego State 0. (RECAP)
UConn 2, (HM) UC Santa Barbara 1. (RECAP)
(HM) Old Dominion 3, Hartford 2. (RECAP)
(HM) San Diego 0, SIUE 2. (RECAP)