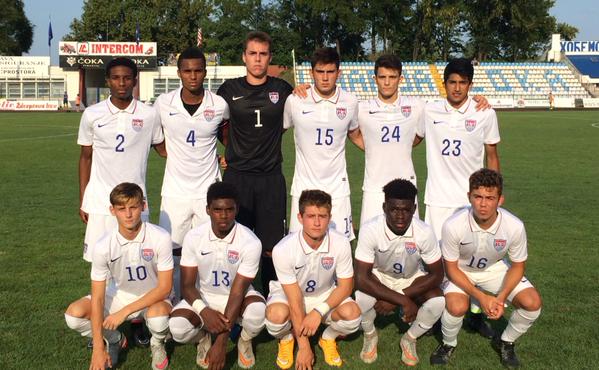 The U.S. Under-20 Men's National Team's rematch with Serbia Thursday did not heal old wounds.
Serbia knocked the U.S. U-20 side out in dramatic fashion during the World Cup in June, and Thursday, it defeated a very different American team once again.
Serbia put three past the U.S. en route to a 3-1 win in the opening game of the 2015 Stevan Vilotic Tournament, which includes Israel, Ukraine, Montenegro, the U.S., France and host Serbia.
Tab Ramos' side were down 1-0 at halftime, and Serbia would eventually double its lead in the 67th minute, but the U.S. would make things interesting just three minutes later. Midfielder Kyle Scott, who is currently under contact with English Premier League club Chelsea FC, drew and subsequently converted a penalty kick.
However, the U.S. comeback was for naught, as Serbia added another to close out the match. Many contributors from the World Cup squad were not called into the September tournament, with many, including goalkeeper Zack Steffen, centerback Matt Miazga and midfielder Emerson Hyndman, playing with the U.S. U-23 team's loss to England.
The U-20s will return to action Saturday when they play France in Senta, Serbia (11 a.m.).
Check out the starting lineup used against Serbia below:
Goalkeeper: Justin VomSteeg,
Defenders: Kyle Duncan, Erik Palmer-Brown, Christian Onolfo, Nicholas Hinds
Midfielders: Cameron Lindley, Martin Salas, Ben Swanson, Kyle Scott,
Forwards: Nebojsa Popovic, Emmanuel Sabbi
—
What did you think about the U-20's performance? Think they can bounce back Saturday?
Share your thoughts below.