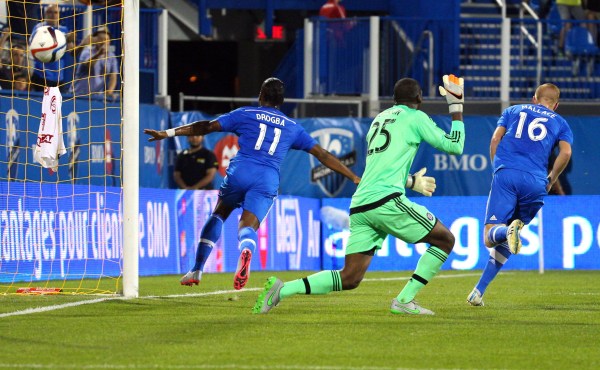 Photo by Jean-Yves Ahern/USA TODAY Sports
By AARON CRANFORD
Didier Drogba opened his MLS goal-scoring account 27 minutes into Saturday's match against the Chicago Fire, but his night was only just beginning.
In a seven-goal thriller at Stade Saputo, the Montreal Impact earned a 4-3 victory over the Fire, and Drogba led the charge with a hat trick.
The pair of Eastern Conference foes battled it out until the end, with both sides answering each others' goals until Drogba's game-winning goal in the 61st minute. The win gives the Impact an important four-point advantage over the Fire in the playoff race.
The Ivorian star used a bit of composure and strength to handle a Nigel Reo-Coker cross before slotting his first MLS goal in during the 27th minute against the Fire.
However, the celebration in front of 20,801 would not last for long. Harrison Shipp was tripped by Maxim Tissot, and Jeff Larentowicz buried the subsequent penalty kick nine minutes after Drogba's opener.
Montreal grabbed the lead again six minutes later, with Wandrille Lefevre scoring a header after a Marco Donadel corner kick, but the two teams headed into the break level.
The Fire equalized once again, as Brazilian forward Gilberto converted a simple tap-in two minutes after Lefevre's header, scoring a right-footed effort near the six-yard box. Kennedy Igboananike fizzed in a low cross from the right wing for the assist.
In the 52nd minute, Sean Johnson dove to his right to deny an Andres Romero effort. And one minute later, he made an even bigger save, denying Justin Mapp from scoring a point blank effort.
Six minutes later, the Fire would take the lead. Igboananike rose high on a corner kick to head in the go-ahead goal.
Drogba quickly responded.
The 37-year-old striker found himself free on goal after a quick free kick was played to him, and Drogba smashed in the chance during the 61st minute.
Four minutes passed, and Drogba did it again.
This time, he blasted a shot on frame, and although Johnson denied the first effort, Drogba would not be denied his hat trick, following up his own effort with a header on the goal line.
Ignacio Piatti almost thundered in an effort of his own moments later, but a heroic tip from Johnson prevented a spectacular goal.
The Fire will play the New York Red Bulls Friday, while the Impact will travel to meet the LA Galaxy the next day.