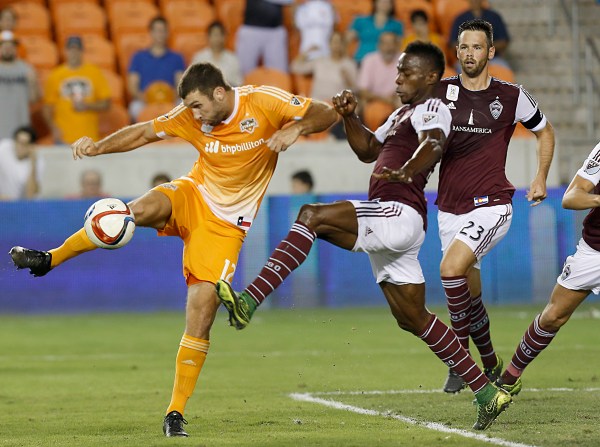 Photo by Thomas B. Shea/USA TODAY Sports
By SBI SOCCER
The Houston Dynamo needed all three points at home to stay alive in the MLS playoff hunt, and they achieved just that Saturday night.
In a back-and-forth affair, the Dynamo did just enough to thwart a Vicente Sanchez brace en route to defeating the Colorado Rapids, 3-2, at BBVA Compass Stadium.
While Will Bruin was involved in all three goals, Lionel Miranda, Giles Barnes and Brad Davis were the Dynamo men to score Saturday evening. With the win, Houston remains just three points behind the Portland Timbers, who hold the sixth and final Western Conference playoff spot.
The first goal-scoring run started in the midfield, as Will Bruin stole the ball and surged ahead until he played a short pass to Giles Barnes in the third minute. The Jamaican international slipped a pass wide right to Leonel Miranda, who blasted a right-footed effort into the far-left corner for the first goal.
The second goal of the evening would soon follow. Vicente Sanchez blasted a free kick around a Dynamo wall and into the back of the net five minutes after Miranda's effort.
End-to-end play continued in the early minutes, as the Dynamo had ample looks at goal 10 minutes after the opening whistle, but the Rapids defense held firm.
The hectic pace slowed down, but in the 24th minute, Bruin was the one to instigate the Dynamo attack yet again. The forward sped down the right wing and beat Sean St. Ledger with a tackle before sprinting into the penalty area. He sent a simple pass to Barnes on his left, and the 27-year-old coolly finished.
The Dynamo almost rode the lead into the halftime break, but Sanchez was the thorn in the side of Houston once again. The 35-year-old Uruguayan scored just before the interval, tying things up in Texas at two apiece.
Davis would change that scoreline quickly, though. The 33-year-old Dynamo captain found himself free in the penalty box after a Bruin header deflected off of a defender and into his path. He fired it in for the 3-2 lead in the 47th minute.
Goalkeeper Tyler Deric was called into action in the 78th minute, diving to his right to make an impressive save to deny Sanchez his hat trick. Again, in the 88th minute, Deric stood tall against Sanchez, keeping the 3-2 advantage intact. Houston would hold onto the lead until the final whistle.
The Dynamo have an important Texas derby to look forward to next Saturday, as they travel to play FC Dallas. Meanwhile, the Rapids will host Real Salt Lake on the same day.