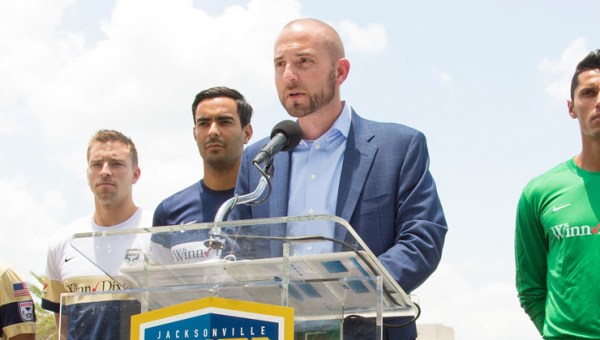 By SBI SOCCER
The NASL has elected a new Board of Governors chairman as the league continues to reconfigure after the summer's FIFA scandal.
Jacksonville Armada FC owner Mark Frisch has been named the league's new Board of Governors chairman, the league announced Monday. Frisch's appointment comes after the suspension of previous chairperson Aaron Davidson, former president of Traffic Sports.
With Frisch now occupying the post as chairman, the NASL Board of Governors is expected to make some major decisions in the near future regarding the league's expansion efforts.
"Mark has established himself as a leader among our owners, and they recognized that by electing him as chairman," NASL Commissioner Bill Peterson said. "Mark has a clear vision for the future of this league, and his guidance and input will be an important component for our continued growth."
Founder and CEO of Sunshine Soccer Group, Frisch spearheaded to bring professional soccer to Jacksonville, culminating in this season's debut of the Armada.
"I'm thrilled and honored to have this opportunity," Frisch said. "As we look to build on a great foundation and continue to grow this league, it's a great time to be in this position. I look forward to working closely with Commissioner Peterson to help accomplish all of his goals and the goals of all of our owners."
As president of Traffic Sports, Davidson was instrumental in helping sculpt the league in its opening seasons prior to taking on the role as chairman. However, Davidson was suspended back in May as Traffic's role in the ongoing FIFA scandal came to light.
What do you think of Frisch's appointment? What do you expect from the NASL in the coming weeks and months?
Share your thoughts below.