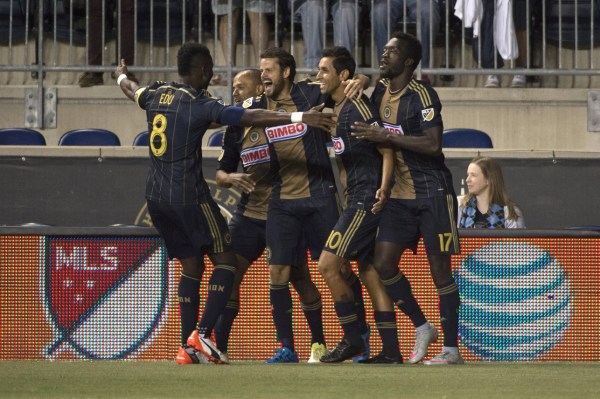 By JOE TANSEY
The moment Vincent Nogueira struck the right post with time dwindling down in the 2014 U.S. Open Cup Final is still fresh in the minds of the Philadelphia Union.
So are the feelings they had in the seconds, minutes and days after falling to the Seattle Sounders in extra time on their home field one year ago.
On Wednesday, the Union will have a chance to erase the ghosts of Open Cup final past and hoist the first trophy in club history when they take on Sporting Kansas City at PPL Park.
From the first minute they started their road back to the final, the Union have been on a mission. Despite a disappointing MLS campaign, Philadelphia made sure it took care of business to return to the game that caused so much heartbreak in 2014.
"We had some heartbreak in this competition last year and after the game against Seattle, where we came inches away from winning with a ball off the post in the 90th minute, we talked about getting back to the final game," Union manager Jim Curtin said. 
"It's very easy to talk about things. It's whole other thing to actually do it," Curtin said. "From that standpoint, I'm very proud of my guys. we have one more game that we need to win to achieve our goal."
"There's only two trophies in this country that you can lift: MLS Cup and the Lamar Hunt U.S. Open Cup," Curtin continued. "So it's a competition I take very seriously from when I was a player in Chicago and I've passed that on to the guys in Philadelphia." 
Philadelphia will also have a chance to win a trophy in front of its supporters tonight. Winning a trophy for the boisterous supporters of the club is weighing on the minds of the manager and his players.
"We will do as a team everything we can to give our city, the Sons of Ben and our fans, their first trophy," Curtin said. 
Winning will be far from an easy task as Sporting Kansas City enter the final as the clear-cut favorite given their wealth of experience and world-class talent.
"They're a very good team in our league. A team that has a proud history of winning trophies," Curtin said. "They have a head coach in Peter Vermes as a young coach myself aspire to be like to build something the way he has in Kansas City." 
Curtin's main focus is on shutting down the players who make up the spine of the Sporting KC formation. Just like the Union's top players, the stars on the Sporting KC roster were rested during league play this weekend in preparation for the final.
"Benny (Feilhaber)'s a MVP candidate for a reason. He's a guy that I respect a great deal. He's a difference maker," Curtin said. "Right up the middle of the field, Dom Dwyer, Benny Feilhaber, the underrated Paulo Nagamura, who is just a winner, Mustivar and Besler obviously at the back. Right up the spine, they're very strong. They're a good team."
"You know how they're going to line up. You know what a Kansas City team looks like. They're going to fight, scratch and claw for everything," the Union manager said. "Peter Vermes won't allow anything less than that. They're very disciplined and it'll be a very difficult challenge Wednesday, but one we'll be up for." 
As for his own team, Curtin has a difficult decision to make at goalkeeper. John McCarthy has been a stalwart in net throughout Open Cup play, but Jamaica international Andre Blake turned in a 10-save performance on Saturday in the club's 1-1 draw with New England.
"It's a huge decision. It's one that I'll have to make. We gave John and Andre an equal share. We wanted to get a fair look at both of them," Curtin said. "It's a good situation because both have played well. John got the shutout against Houston and Andre played a pretty darn impressive performance against New England. I'm confident that both of them can get us a win whichever one I decide." 
Although they enter Wednesday's final as decided underdogs, the Union have had luck on their side during their run to the championship.
"We've had some crazy games in this competition," Curtin said. "Rochester (game went to) PKs. Shorthanded for 60 minutes and down a goal to D.C. and down a man for about 80 minutes against New York and hanging on for penalty kicks so we've been through a heck of a lot together this year. The next step is winning the final."