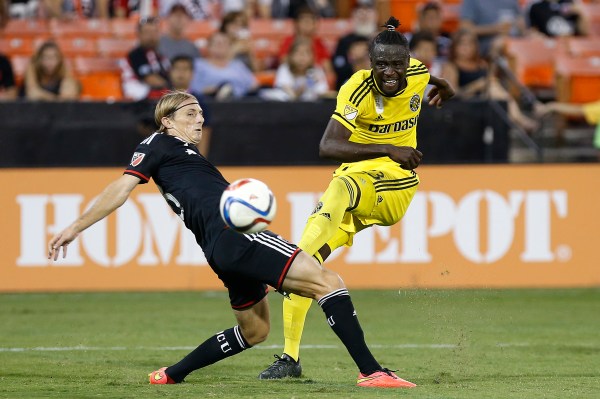 Photo by Geoff Burke/USA TODAY Sports
By SBI SOCCER
A familiar Columbus Crew duo were fruitful once again Saturday, but this time, they not only helped their side to a win but also to first place in the conference table.
While jumping atop the Eastern Conference, the Crew extended D.C. United's winless streak to five with a 2-1 win in the nation's capital.
Ethan Finlay's ninth goal of the year and Kei Kamara's 21st tally were enough to see the visiting Crew through to the end, despite a second-half response from Chris Rolfe.
The victory gives the Crew 47 points this campaign, currently one more than the New England Revolution.
In the 21st minute, Alvaro Saborio nearly gave the hosts the advantage, but a quick reaction-save from goalkeeper Steve Clark kept the scoreline even.
The Crew would pounce on their first good opportunity to take the lead as well. Tyson Wahl beat a man inside the box and slipped a pass to Finlay, and the man in form during 2015 season shielded the ball before turning and burying it into the back of the net.
Saborio had another good opportunity in the 30th minute, after he made a surging run into the box from the right. However, his right-footed attempt fizzed just wide of the far-left post.
In the second half, the Crew jumped into an even bigger lead, thanks to MLS' leading goal-scorer, Kamara.
Kamara was on the receiving end of a perfect Tony Tchani through ball in the middle of the field, and the league's leading goal-scorer coolly slotted the ball around Bill Hamid.
Hamid was called into action multiple times throughout the night. He made a last-ditch tackle on Finlay in the 64th minute to prevent a third goal from the Crew, and his heroics gave D.C. momentum to carry on and find a result.
In the 67th minute, D.C. found a way back into the game, with Ted Unkel calling a handball on Chris Klute in the Crew box. Rolfe gave the home fans something to cheer for at RFK Stadium, sinking the subsequent chance from the penalty spot.
Saborio appeared to find the equalizer for D.C. in the 84th minute, but he was flagged offside, and the Crew would see the result out until the final whistle.
The Crew will now meet the Portland Timbers next Saturday, and D.C. will go head-to-head with the Montreal Impact the same day.