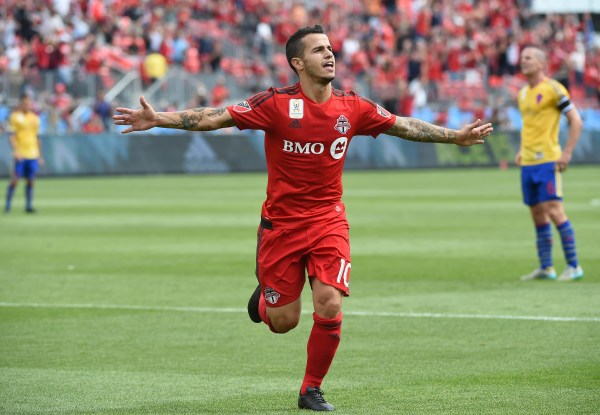 Photo by Dan Hamilton/USA TODAY Sports
By SBI SOCCER
Sebastian Giovinco and Toronto FC came into Saturday on a bad skid.
Both snapped their respective droughts, though, with a vital 3-1 win against the Colorado Rapids.
MLS MVP contender Giovinco scored two goals four minutes apart during the first half, snapping his four-game goal drought, and also provided an assist to once again lead his side to an important win at BMO Field.
With his 18th and 19th goals, the Italian playmaker also moved into second all-time in goals scored for Toronto FC, only now sitting behind Dwayne De Rosario, who has 28.
Dillon Powers gave the visitors a glimmer of hope just before halftime, but the dark and rainy afternoon belonged to Toronto FC, which snapped its three-game losing streak and put it in prime position to reach the playoffs for the first time in franchise history. With the win, Toronto FC now has 40 points on the year, four behind the Columbus Crew in fourth and a comfortable 12 points ahead of Orlando City SC in seventh.
Robbie Findley combined with Giovinco in the team's own half during the 14th minute, and from there, the Italian international took over. Sprinting down the right wing, Giovinco approached the penalty box and sent a low-driven shot to the bottom-left corner. Goalkeeper Clint Irwin got a hand to it, but the ball had enough force behind it and found the back of the net.
Jonathan Osorio laid off a succulent pass for Giovinco four minutes later, and just a few steps outside the box, he finessed the ball around Irwin and into the right corner for his brace.
Giovinco claimed his assist from a corner kick, as Damien Perquis rose high at the near post to give the Reds their third of the day in the 38th minute.
Toronto FC would have had a shutout if not for some indecision from goalkeeper Chris Konopka. The 30-year-old netminder decided to come out on a corner kick but misread the flight of the ball, and Powers was there to make him pay two minutes after Perquis' tally.
However, Toronto FC held on in the second half, surviving the Rapids' persistent attempts to counter and the torrential weather.
Toronto FC will look to continue its push for the playoffs against the Chicago Fire next Saturday, while the Rapids stay on the road to meet the Houston Dynamo the same day.