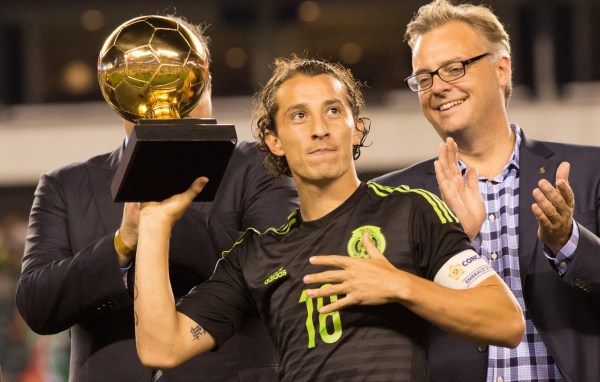 Photo by Bill Streicher/USA TODAY Sports
By SBI SOCCER
Mexico will officially head into October's crucial CONCACAF Cup without one of their most important players.
PSV Eindhoven announced Monday that El Tri star Andres Guardado will miss four-to-six weeks due to an ankle injury. The Mexico midfielder underwent an ultrasound and MRI Monday, revealing damage to Guardado's ankle ligaments.
The injury was suffered in PSV's Champions League victory over Manchester United last week, a game that saw the Mexican midfielder's left ankle twisted following a challenge from defender Chris Smalling.
As a result, Guardado will be forced to miss out on the crucial CONCACAF Cup, which will see El Tri battle the U.S. Men's National Team for a berth in the 2017 Confederations Cup in Russia.
Guardado, who has earned 119 career caps for El Tri, scored six goals at this summer's Gold Cup, including both goals in Mexico's controversial semifinal win over Jamaica. The 28-year-old midfielder was recognized with the tournament's Golden Ball for his performance, which earned Guardado his second career Gold Cup triumph.
What do you think of the latest Guardado news? Who do you expect to fill in for Mexico? How much does Guardado's absence help the U.S.?
Share your thoughts below.