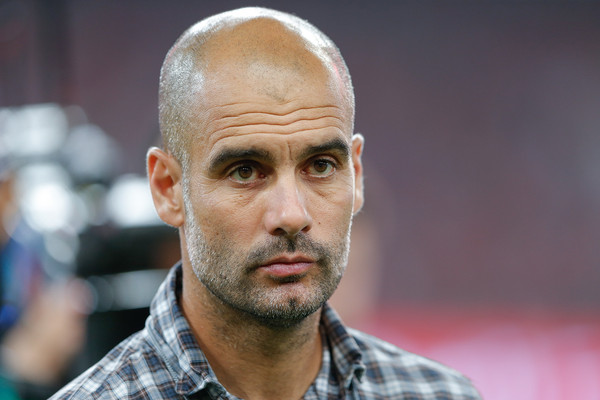 By SBI SOCCER
Pep Guardiola has led Bayern Munich to multiple titles and successes since arriving in 2013, and subsequently, the club is hoping he stays around for much longer.
Chief executive Karl-Heinz Rummenigge said Bayern has already put an intriguing offer on the table to extend Guardiola's stay with the Bundesliga giant.
"I am optimistic about Pep's renewal," Rummenigge said of the new deal in place. "We have a great offer on the table, which you cannot just shove aside. We have a first-class team, a fantastic club, a great stadium and a wonderful city to offer. We will have a serious conversation with Pep in the upcoming weeks and we will see what comes from that.
"I want to win the Champions League again — with Guardiola in charge."
Guardiola's current contract ends at the conclusion of the 2015-16 campaign. He has led Bayern to consecutive domestic league titles, but a UEFA Champions League title is still missing from Guardiola at Bayern.
Here are some more news and notes:
ARSENAL SUPPORTERS TEAR TOTTENHAM SIGN BOARDS AT WHITE HART LANE
It's all fun and games until someone or something is hurt, or in this case damaged.
After winning, 2-1, against its London rival in league cup play Wednesday, Arsenal supporters rubbed in the win by tearing Tottenham hoardings that displayed club mottos and sayings in the away section of White Hart Lane.
"We are concerned that this has happened involving a minority," an Arsenal spokesperson said. "We will work with Tottenham Hotspur and the authorities on this."
According to Sky Sports, though, Arsenal may not be the only club reprimanded for Wednesday's actions, as an English Football Association investigation could see both teams face punishment for failing to control supporters inside the stadium.
The Metropolitan Police confirmed ten arrests for a range of charges following the match.
LOIC REMY SAYS HE MUST BE PHYSICAL TO CLAIM CHELSEA STARTING SPOT
Loic Remy and Radamel Falcao will be fighting for the number one spot, but the French forward hopes his physical presence gives him the edge.
With first-choice striker Diego Costa missing the first game of his three-match ban Wednesday, Remy made an impact performance for Chelsea in the team's 4-1 Capital One Cup match against Walsall, scoring his first goal of the 2015-16 campaign. He told the Telegraph that in order to keep seeing minutes and playing well, he has no choice but to play physical.
"I don't have a choice, I have to do it because when you play for Chelsea it's a question of giving the best, 100 percent, every game. Of course, I will do the best I can," Remy said.
"We will miss Diego because he is so important to the team and winning games, but whoever is on the pitch we just try to do the best we can. It's a shame for us to have lost him for three games."
While Falcao is in a position battle with the French international, Remy's league cup performance may be enough to see him take the field from the start Saturday, when Chelsea go on the road to face a struggling Newcastle side.
QUICK KICKS:
Manchester United head coach Louis Van Gaal said he hopes to keep high Anthony Martial expectations "on the ground." (REPORT)
After recently turning away from the Brazilian national team, Bayern Munich defender Rafinha said he has had no contact with the German national team. (REPORT)
London mayor Boris Johnson said he hopes Tottenham Hotspur's new stadium can be a home to an English NFL franchise. (REPORT)