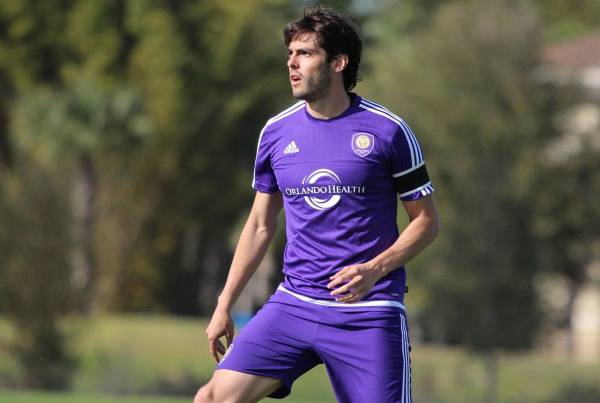 By SBI SOCCER
It seems that the injury that kept Kaká out of action during Brazil's friendly against the U.S. on Tuesday may linger for some time.
Orlando City SC announced Thursday that the star midfielder sustained a muscle strain injury during his international call-up and will be evaluated by club physicians from Orlando Health while being listed as day-to-day.
"We are incredibly disappointed with this recent development for Kaká and for our fans," said Orlando City general manager Paul McDonough.  "He has played 25 games for us so far this season, over 2,100 minutes, without any major issues or concerns. To the contrary, he undergoes one training session and match with the Brazilian National Team and he is injured."
Orlando, who is standing in eighth place in the Eastern Conference and two points out of sixth, returns to action this Sunday at the Citrus Bowl to host Sporting Kansas City.
Here are some other news and notes around the league:
GARBER HOLDING OUT HOPE FOR WAYNE ROONEY TO JOIN MLS
MLS commissioner Don Garber wants Wayne Rooney to become the latest English star to join the league, but he is willing to wait until the time is right.
Garber, speaking with the Manchester Evening News, revealed that he hopes the new all-time leading scorer for England would make a move to the United States when his contract expires with Manchester United.
"He's under contract at Man U. … To be even be talking about it while he's under contract I guess speaks to the way we operate. We don't do that. We wouldn't do it," Garber said. "We would love players like Wayne Rooney, and those who have been able to be really successful at the highest level, to be thinking about Major League Soccer. Today, that's perhaps in their-30s and maybe, sometime in the future, that's in their mid-20s."
Rooney, 29, scored his 50th goal for England on Tuesday to surpass Sir Bobby Charlton as the top scorer for his country. His current deal with United does not expire until the summer of 2019.
During United's preseason tour in the U.S., Rooney said MLS is not something that is out of question for him down the road.
"I'm obviously concentrating on Manchester United. When that time comes, that (MLS), that will be something that I will think about," Rooney said according to Manchester Evening News. "I'll sit down with my wife and children and decide if it would be right for me.
NEW YORK CITY FC AND TORONTO TO BE FEATURED ON ESPN2
The third and final clash between New York City FC and Toronto FC this regular season will be aired on national television.
The schedule page on NYCFC's website changed the broadcast for the Wednesday, Sept. 16 game between the two clubs to ESPN2, moving from the regional coverage of the YES Network within the United States.
Barring any late injuries or changes, players such as Sebastian Giovinco, Michael Bradley, Jozy Altidore, Frank Lampard, Andrea Pirlo and David Villa are all expected to take the pitch for that contest.
The two sides were previously featured on ESPN during their July 12 clash that resulted in a wild 4-4 draw, with Giovinco notching a hat trick and Villa recording a brace.
ODURO AND MANNEH AMONG FASTEST PLAYERS IN FIFA 16 
Pace and speed have been an integral part of many FIFA video gamers' gameplay experience over the recent years and EA Sports revealed the top 20 fastest players in this year's edition — which drops in two weeks — with three MLS players featured on the list.
Dominic Oduro of the Montreal Impact topped that trio by claiming the No. 8 spot on the list, with the Vancouver Whitecaps' Kekuta Manneh following at No. 9 and  San Jose Earthquakes' Innocent Emeghara coming in at No. 11. All three possess a pace rating of 94.
Arsenal's Theo Walcott topped the list with a pace of 96, followed by Matthis Bolly, Pierre-Emerick Aubameyang, Ernest Asante, Jürgen Damm, Gareth Bale and Jonathan Biabiany before Oduro's appearance on the list.
DOS SANTOS HEADLINES MEXICAN INDEPENDENCE PARADE
LA Galaxy forward and Mexican national team member Giovani dos Santos is getting festive this weekend.
According to the Galaxy, dos Santos has been named Grand Marshall of the 69th edition of the East LA Mexican Independence Parade that is set to be held this Sunday.
The annual parade, which is billed as "the biggest and most unique" of its type in the country, is being organized by the Comité Mexicano Cívico Patriótico, a nonprofit organization devoted to maintaining Mexican traditions, and the Mexican Consulate of Los Angeles. The parade will be broadcast live on Univision beginning at 1:30 p.m. Eastern.
Dos Santos signed with the Galaxy on July 15 this season, coming over from La Liga side Villarreal. In five appearances across all competition for LA, dos Santos has notched a total of three goals and five assists, with two goals and three assists coming in MLS play.
The night prior to the parade, dos Santos and the Galaxy will take on Didier Drogba and the Montreal Impact at the StubHub Center.