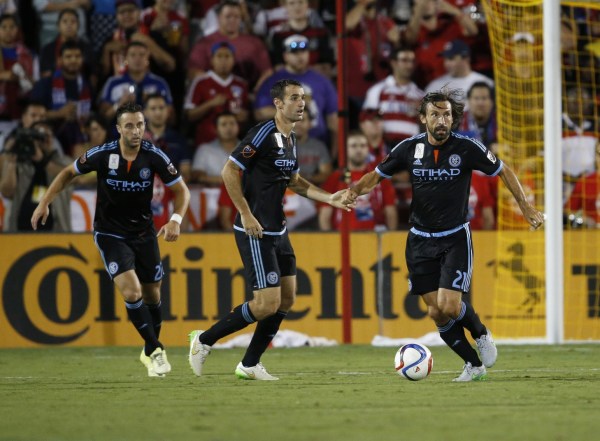 Photo by Matthew Emmons/USA Today Sports
By RYAN TOLMICH
NEW YORK – Andrea Pirlo plays pretty. He sprays perfectly-weighted passes straight from one teammate's foot to the next. Andrew Jacobson plays ugly, displaying grit in destroying play after play in the most important part of the field.
Their different approaches to the game helped Pirlo and Jacobson combined about as well as Jason Kreis could have envisioned on Wednesday night.
On a night dominated by Frank Lampard's first New York City FC finish, Pirlo and Jacobson proved to be the true anchors, leading NYCFC to a 2-0 victory over Toronto FC Wednesday at Yankee Stadium.
"I think that Andrea is a natural born competitor that doesn't take to losing well," Kreis said. "I think he's been in many situations like this before where it requires a massive effort. Really in the last two games, he's really worked extremely hard and played quite well.
"I think that we would be remiss if we said that Andrea was responsible for clogging up the midfield because AJ [Jacobson] put in a tremendous shift again for us. He was critical in a lot of tackles and stealing of passes. I thought he was fantastic at the end of the night. I thought both those guys really shared the duty quite well."
Pirlo's role in the NYCFC midfield is one that those familiar with the game are quite accustomed to. A true maestro, Pirlo is expected to control play, maintain possession and lead his team out of bad situations with both his pinpoint passing and effortless tight-space dribbling.
The Italian's performance Wednesday was likely his best to date in MLS. Springing RJ Allen on NYCFC's opener, Pirlo once again displayed his ability as one of the best passers the game has ever seen. Sending in a corner kick in the second half, Pirlo found the head of Patrick Mullins, helping NYCFC add another dimension with the midfielder's delivery of set pieces.
Yet, Pirlo's efforts comes on the heels of struggles. The Italian admitted that he struggled to get into a rhythm early, thrown right into the lineup just days after joining the club. In addition, Pirlo, who played his whole career in Italy prior to joining NYCFC, said he was ill-prepared for the summer heat of July and August, draining the midfielder physically and mentally in his opening games.
Now entering September, NYCFC is alive in the playoff chase as the Italian continues to adjust to his new surroundings.
"We played well together and it was a good result for the team," Pirlo said. "I don't like to talk about individuals. I think it went very well for the entire team. We were compact. We attacked well. We defended well. Very good.
"I love to play. It's the only thing that I know how to do, basically," Pirlo added. "I really enjoy it and I want to keep on doing it. I want to keep having fun."
While Pirlo enjoys and embraces his unique style of play, Jacobson does the same, albeit in a much different way.
A traditional defensive midfielder paired with attacking minds like Pirlo and Lampard, Jacobson knows his job, and plays it well. Required to hang back and clog the tight midfield of Yankee Stadium, Jacobson has been one of NYCFC's more consistent presences, playing the most minutes on the team this season.
"When I'm around players like Lampard and Pirlo, I'm really trying to complement them the best I can," Jacobson said. "My job is done when they can have good games and save a little bit of energy to go forward and get on the ball.
"I think every game is going to call on different things. I have great players around me so it's about trying to figure out what that game calls on. I think Frank was doing a great job springing guys forward, so I think this game needed a little bit more on the defensive part."
With the midfield picture becoming a bit more clear, NYCFC will now face an uphill climb into the postseason.
Still, Jacobson, Pirlo and NYCFC have faith as the team knows that each and every game is crucial for what comes ahead.
"It's always tough in the beginning when guys don't know each other," Jacobson said. "Guys are starting to see what's going to happen before it happens. We are starting to get a feel for other players.
"It's just time together. On the practice field and in games. The more you play together and the more you understand each other, the better it's going to get."