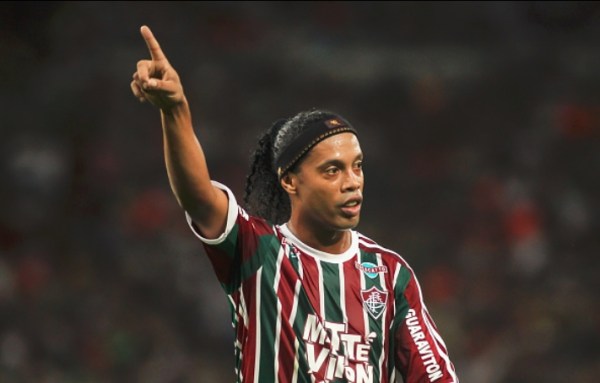 By SBI SOCCER
After suiting up just nine times for his new Brazilian outfit, Ronaldinho has mutually parted ways with Fluminense.
The 35-year-old Brazilian star had trouble making an impact with the Rio de Janeiro side, as he failed to record a single assist or goal in his time with the club. Signing on July 11, Ronaldinho was welcomed by many at the Maracana, and while the club appreciates the attention he brought, the results on the field were not what it was expecting.
"Fluminense and Ronaldinho will maintain their ties and plan to work on other projects in the future," a club statement read. "It should be noted that the deal met marketing expectations, increasing ticket sales, the number of shirts sold and commercial partners.
"The Ronaldinho deal also showed that Fluminense can arouse the interest of the greatest players in world football. Fluminense thanks Ronaldinho and wishes him good luck in the next stage of his journey."
Since leaving AC Milan in 2011, Ronaldinho has suited up for four different clubs, three in Brazil's Campeonato Brasileiro Serie A and one in Mexico's Liga MX.
Here are some more news and notes:
FIFA BANS JACK WARNER FOR LIFE
FIFA and former vice president Jack Warner severed all ties Tuesday, as the former banned the latter for life.
After a review of his conduct by the internal ethics committee, FIFA announced Tuesday morning that Warner was banned from all soccer activities for life after an investigation into the bids for the 2018 and 2022 World Cups.
"Mr. Warner was found to have committed many and various acts of misconduct continuously and repeatedly during his time as an official in different high-ranking and influential positions at FIFA and CONCACAF," a statement from FIFA read. "In his positions as a football official, he was a key player in schemes involving the offer, acceptance, and receipt of undisclosed and illegal payments, as well as other money-making schemes."
The former vice president resigned from soccer's world governing body in 2011, but he was indicted by the U.S. Department of Justice in May 2015 and is currently in Trinidad & Tobago, fighting extradition to the U.S. on multiple corruption charges.
JAVIER MASCHERANO CHARGED WITH TAX FRAUD
While Barcelona star Neymar is facing inquiries about his taxes, Spanish authorities charged a teammate of his with tax fraud Monday.
Javier Mascherano was charged with two accounts of defrauding Spanish tax authorities for a total of $1.68 million (€1.5 million), according to AS. He is reported to have concealed earnings he attained through his image rights while using companies in the U.S. and in Portugal.
A Spanish judge will decide if Masherano's case goes to trial. The 31-year-old defensive midfielder already paid the the money owed, including accrued interest.
FIFA PRESIDENT CONTENDER CHUNG MONG-JOON WANTS REFORM

A new FIFA president may not be named until February 2016, but that isn't stopping one candidate from voicing his displeasure and attempting to spark reform.
According to AP, Chung Mong-joon said FIFA is in "total meltdown" after a criminal case was opened against current president Sepp Blatter. Chung will be in the running for FIFA presidency next year, and if elected, he wants to help FIFA move away from this "crisis."
"FIFA is currently facing an unprecedented crisis," Chung said. "However, this is also an unprecedented opportunity to reform it. If all those who love football can bring their collective wisdom to bear on reforming FIFA, it will be possible to save and revitalize it. The most urgent task at hand is to root out corruption from within FIFA."
Chung, who is a billionaire businessman, one of the founders of Hyundai and a former vice president of the world's governing body for 17 years, wants to see change and hopes he can reform FIFA, a task he was unable to do before.
"I am sad to say that, at the time, I did not have the power to stop such corrupt practices that have now come back to haunt and destroy FIFA," the South Korean businessman said.
QUICK KICKS:
Sergio Ramos, Gareth Bale and James Rodriguez will all miss Real Madrid's UCL clash with Malmo FF Wednesday in Sweden. (REPORT)
The Palestinian Football Union says FIFA's decision to move the location of a World Cup qualifying match between it and Saudi Arabia is "unjust and reprehensible." (REPORT)
Chelsea head coach Jose Mourinho says many of his players are the wrong sort of champion. (REPORT)
Four Manchester United players, including Ander Herrera and Marcos Rojo, missed training Tuesday, one day before the club's UCL clash with Wolfsburg. (REPORT)
—
What do you think Ronaldinho's next move should be? Think FIFA's decision to ban Jack Warner was a good one? Will Mascherano's case go to Spanish court?
Share your thoughts below.