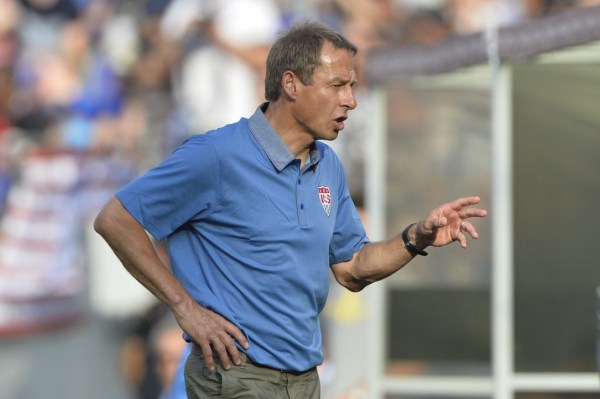 Photo by Tommy Gilligan/USA TODAY Sports
By RYAN TOLMICH
WASHINGTON – Like many fans of the U.S. Men's National Team, head coach Jurgen Klinsmann was far from happy with the Americans' performance at this summer's Gold Cup.
Klinsmann says that, to this day, there's "still a little bit of anger" with regards to the recent tournament, which saw the U.S. suffer a semifinal loss to Jamaica and fall to Panama in the third-place match.
Despite the feelings towards the Gold Cup, Klinsmann now says that it's now all about turning that ill-will towards October's playoff against Mexico. That's a game that gives the USMNT a chance to right its wrongs while earning a berth in the 2017 Confederations Cup,  and one the Americans are preparing for with Friday's friendly vs. Peru and next week's clash with Brazil.
"I think it left something in our stomach," said Klinsmann of the Gold Cup. "The way it happened there, the decisions of referees, and a lot of controversial stuff happened in that Gold Cup. It left something bitter, sour, with us. We have to go the extra mile. We will go the extra mile, but that can only help us.
"It will be a tremendous experience for players to step on the field in front of 90,000 (fans) in a one-off. This is a huge learning curve, especially for younger players that aren't used to playing with this crowd or aren't used to getting it all together for just one game. We're looking forward to it."
Here are some more of Wednesday's USMNT news and notes:
JOHNSON, BEASLEY REMAIN FIRST CHOICE UPON INJURY RETURN
Heading into Friday's riendly with Peru, the USMNT is facing some major difficulties at the fullback position due to the absences of Fabian Johnson and DaMarcus Beasley.
Widely regarded as one of the USMNT's more versatile players, Johnson is set to miss out due to a hamstring injury suffered last month while Beasley's absence comes after the veteran pulled up with a calf injury this past weekend with the Houston Dynamo.
Even fellow fullback Timmy Chandler is set to miss out due to injury, leaving Klinsmann with a dearth of options at the fullback positions. Lacking available options there other than Greg Garza, Klinsmann has summoned Jonathan Spector for the first time in over a year. Klinsmann has also called in a number of natural centerbacks that can fill in on the outside, including Geoff Cameron, Tim Ream, and Michael Orozco.
Still, Klinsmann insists that the team will have to make due in the absence of Johnson and Beasley, two players he still considers his go-to options.
"We're trying to make the best out of it," Klinsmann said. "Not having Fabian Johnson is really a bummer because of the qualities he has. Also, DaMarcus Beasley, we hoped, still until Saturday that he is back on track. We talked last week on the phone, but then he walked off the field and said, 'I'm not there yet'. (Dynamo head coach) Owen Coyle called me after the game and said 'We're not risking anything right now.'
"We need Beas against Mexico, so that leaves some places open there and we'll fix it as good as possible. The preferred roles would go to Fabian on the right and Beasley on the left, but it is what it is."
JONES HAPPY TO RECLAIM PLACE IN MIDFIELD FOLLOWING CENTERBACK EXPERIMENT
When U.S. Soccer released the roster for the pair of upcoming friendlies, Jermaine Jones was listed in his more familiar position of midfielder.
Having missed the past several months with ongoing injury woes, Jones' last action with the USMNT came in a centerback role. With Jurgen Klinsmann experimenting post-World Cup, Jones was given a chance in central defense on a number of occasions, a position he proved more than capable of playing.
However, Jones is somewhat relieved to be back in the midfield, even though he remains more than willing to play in the defense. Still, Jones can now just focus on reclaiming his spot in the national team following an extended absence.
"I said before that I respect what the coaches try and what they want from me," Jones said. "Jurgen told me that he wanted to see me and try me as a centerback while he wanted to give younger players a chance in the midfield.
"I always say that the position I like and want to play is in the midfield. This, for me, is the best position where I can help the team."
—
What do you think of Klinsmann's post-Gold Cup feelings? How do you expect the USMNT to cope without fullback starters in Johnson and Beasley? What are your expectations for Jones in his more familiar midfield role?
Share your thoughts below.