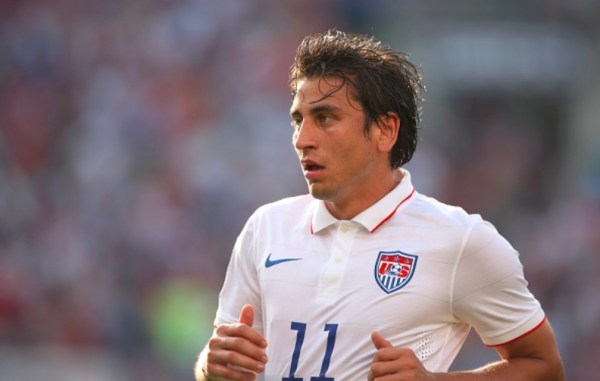 By RYAN TOLMICH
FOXBORO, Mass. – Alejandro Bedoya will be the first to tell you: he got exposed Tuesday night.
Played aside Jermaine Jones as a deep-lying midfielder, Bedoya just didn't have it, lasting just 36 minutes in a position that proved to be highly foreign to the U.S. Men's National Team midfielder.
Removed early in the USMNT's eventual 4-1 loss to Brazil, Bedoya was the first to admit that he wasn't up to snuff on Wednesday night.
"It is what it is," Bedoya said after the loss. "Whenever I play, I want to do my best for the team. It's a different position for me, but I don't know. You try and work on things in training but, in a game, it's a whole different thing against good teams like Peru and Brazil.
"It's fair to say maybe I got exposed a little bit in not knowing how to play as a No. 6, because I haven't really played there as a professional, but yeah, everything is a learning curve."
For head coach Jurgen Klinsmann, the decision to play Bedoya in the center of the field was a logical one, even if it was in a deeper role than usually preferred. Having proven to be a menace on the wing throughout his international career, Bedoya's placement in the midfield opens the door for speedsters like Gyasi Zardes and DeAndre Yedlin to roam the sidelines and cause havoc.
Klinsmann says that Bedoya's struggles on Tuesday weren't due to a lack of effort of lack of preparation. Rather, it was just a bit of an off day from a player that is still very much a major part of the USMNT going forward.
"Playing Ale in the center there with Jermaine (Jones) and Michael (Bradley) in front of it, it's a very good option. He showed a couple of other games after the World Cup that he could play inside, but he just never caught up with the game. He was really running after the ball and trying to get involved somehow, but he never connected.
"That's what you see then, and then you wait a little bit and say ' you know what? It's maybe better to make a switch there'."
Having trained in the position throughout the week, Bedoya was still not quite prepared for what was ahead of him. A newcomer in the position, Bedoya was thrown into the fire against Brazilian playmakers like Hulk and Douglas Costa.
With Mexico around the corner, the experiment of Bedoya at defensive midfielder is likely set to be shelved. However, the lessons learned from it will not, as Bedoya is fully ready to move on for the crucial one-off clash.
"I haven't really played there before," Bedoya said. "Like I said, sometimes versatility is a good and bad thing maybe, you know? Over the past two games, I tried to do my best, and there's somewhere I haven't really played a professional, but this is one of those games you learn a lot in and take it from here.
"We talked about being aggressive, and stuff like that, but when you don't get close enough to the guys, they're able to do everything and even when you do press them, they're mentally quicker than you and technically very gifted. We got it handed to us a bit today and we look forward to the Mexico game now and we have things work on. We're going to give it our all."