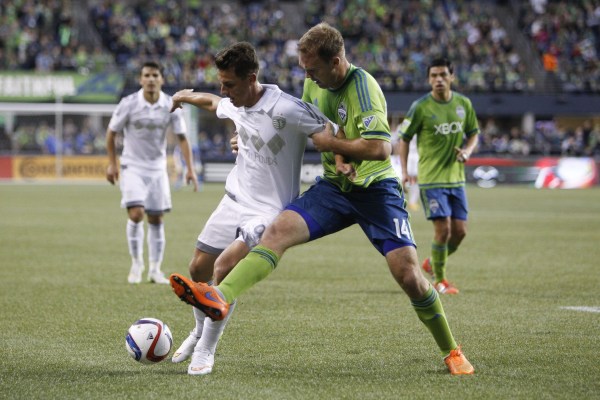 Photo by Jennifer Buchanan/USA TODAY Sports
By SBI SOCCER
The Seattle Sounders suffered a major scare at Wednesday's training session.
Sounders centerback Chad Marshall reportedly left practice in an ambulance after landing on his head during a drill. Marshall was reportedly attended to by team trainers before being placed in a neckbrace and loaded onto an ambulance via stretcher.
"We really don't know, so there's nothing I can really say," Seattle coach Sigi Schmid said according to The Seattle Times. "Obviously he fell, hit his head and we're taking all of the precautions. But at this stage, we don't know. We'll know more later.
"You're always going to err on the side of being conservative in a situation like this, any time it's a head or a neck," Schmid added. "That's what we've done and we'll see. … I'm not a doctor so I can't make those analysis. Otherwise, I'd have a medical degree and be making more money than I'm making now."
According to the Times, several teammates confirmed that Marshall was able to move both his arms and legs before being placed on the stretcher.
Marshall, who has suffered several concussions throughout his career, has started 26 games this season for the Sounders.
What do you think of the Marshall injury? How will the Sounders react with the playoffs so near?
Share your thoughts below.