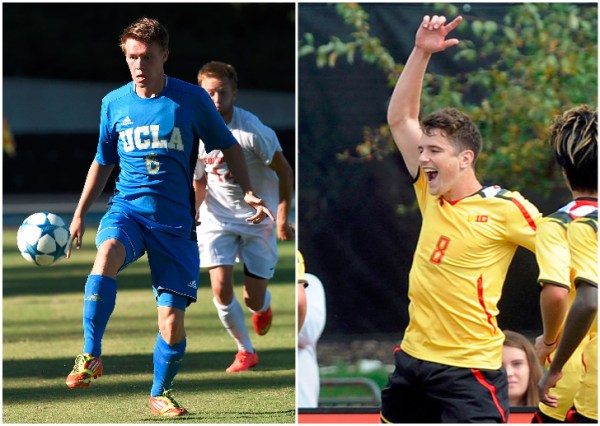 Photos by UCLA Athletics/Maryland Athletics
By AARON CRANFORD
Two of the nation's best meet in College Park Friday for a showdown that will pit West coast vs. East coast.
The UCLA Bruins, who defeated New Mexico by a scoreline of 1-0 last Saturday, travels across the U.S. to face the Maryland Terrapins in a battle of SBI Top 10 teams.
While the No. 8 Terrapins boast a younger squad in 2015, head coach Sasho Cirovski led his side to two impressive results in Indiana, a scoreless draw against No. X Notre Dame and a 4-0 win vs. St. John's.
Cirovski said one of the reasons why so many players come to Maryland is because of opportunities like Friday's match against SBI No. 1 UCLA — a chance to play the best from across the country.

"Every year we've played each other, we've both gone on to have good seasons," Cirovski said ahead of Friday's meeting at Ludwig Field. "It's going to be an electric crowd. I expect another record crowd, and I expect all of out students to come out and give us a real nice advantage at home."
No. 9 Clemson also faces a tough test Friday, as the Tigers welcome rival South Carolina to Riggs Field. After cruising through opening weekend with two wins, the Tigers, who won the ACC Tournament in 2014, will look to senior midfielder Paul Clowes to lead the way.
Clowes, who was named MVP of the ACC Tournament last season, scored twice in the team's first two games and was named ACC Offensive Player of the Week.
Meanwhile, former SBI No. 1 and current No. 8 Georgetown will host Akron, who fell out of the Top 25 after a 4-1 loss to Old Dominion on the road. The Hoyas lost a game of their own in Florida, falling by a score of 2-0 to South Florida last Monday.
Here is a rundown of where all of the top teams will be playing during the second weekend in men's college soccer:
THIS WEEKEND'S COLLEGE SOCCER SCHEDULE
FRIDAY
2 p.m. – (22) Syracuse vs. UC Riverside
4 p.m. – (8) Georgetown vs. Akron
4 p.m. – (HM) Michigan State vs. Niagara
4:30 p.m. – Temple vs. (HM) Penn State
5 p.m. – (15) Indiana vs. (HM) UAB
5 p.m. – Boston College vs. (HM) SMU
5:05 p.m. – Holy Cross vs. (12) Providence
6 p.m. – (18) UC Santa Barbara vs. Denver
7 p.m. – (2) Virginia vs. Tulsa
7 p.m. – (6) Maryland vs. (1) UCLA
7 p.m. – (5) North Carolina vs. William & Mary
7 p.m. – (14) Louisville vs. Stony Brook
7 p.m. – (13) Coastal Carolina vs. (20) Charlotte
7 p.m. – (HM) UMBC vs. (HM) Ohio State
7 p.m. – (HM) Navy vs. Oakland
7:30 p.m. –  (4) Notre Dame vs. (17) South Florida
7:30 p.m. –  (9) Clemson vs. South Carolina
7:30 p.m. –  (23) Oregon State vs. Vermont
7:30 p.m. –  (21) California vs. Virginia Commonwealth
7:30 p.m. –  Penn vs. (10) Washington
8 p.m. – (24) Saint Louis vs. Memphis
8:30 p.m. – (3) Creighton vs. Cal State Northridge
8:30 p.m. – (16) UC-Irvine vs. Nebraska Omaha
9 p.m. – New Mexico vs. (19) San Diego
10 p.m. – (7) Stanford vs. Northeastern
SATURDAY
7 p.m. – (25) Xavier vs. Virginia Tech
7 p.m. – (11) Wake Forest vs. (HM) Florida Gulf Coast
7 p.m. – Loyola (MD) vs. (HM) Old Dominion
SUNDAY
11:30 a.m. – (15) Indiana vs. (17) South Florida
12 p.m. – Harvard vs. (HM) SMU
2 p.m. – (4) Notre Dame vs. (HM) UAB
2 p.m. – Denver vs. (19) San Diego
3 p.m. – (HM) American vs. Penn
4 p.m. – Navy vs. (HM) Ohio State
5 p.m. – (21) California vs. Northeastern
6 p.m. – (7) Stanford vs. Virginia Commonwealth
7 p.m. – (5) North Carolina vs. Tulsa
7 p.m. – (22) Syracuse vs. Rutgers
7 p.m. – (HM) UMBC vs. Oakland
8 p.m. – (3) Creighton vs. UC Irvine
8 p.m. – New Mexico vs. (18) UC Santa Barbara