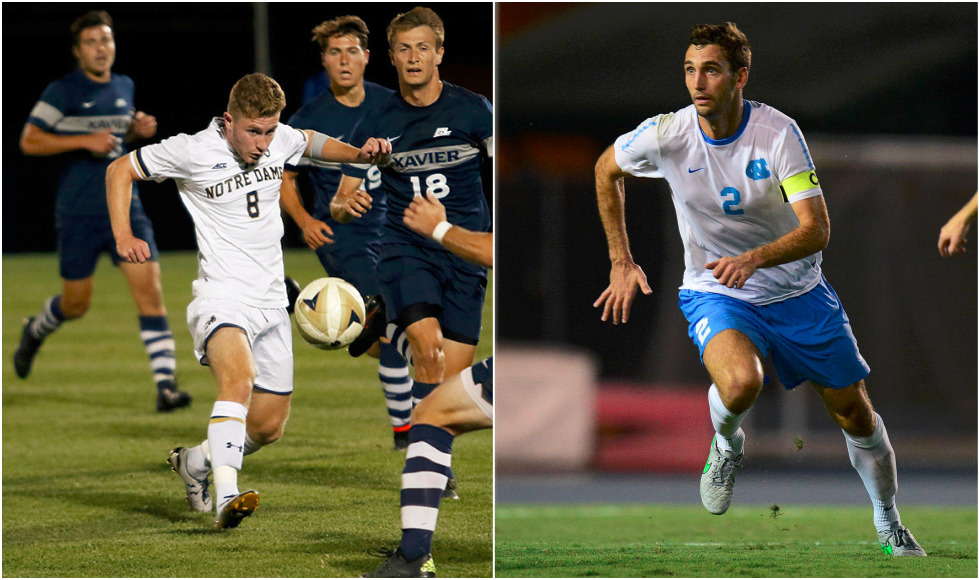 Despite losing a handful of seniors, SBI No. 2 North Carolina has started off the 2015 season extremely well on both the offensive and defensive end.
However, the Tar Heels face their toughest task yet when No. 4 Notre Dame travels to Chapel Hill Friday.
Fresh off of a disappointing home defeat to Xavier during the week, the Fighting Irish are hoping to rebound quickly, but the Tar Heels won't be so willing to go down without a contest at Fetzer Field (5 p.m., ESPNU).
Senior midfielder Raby George leads all Tar Heels with three goals, but Tucker Hume and Zach Wright have also heavily contributed up front, as both forwards have two goals this campaign. On the other side of the ball, the Fighting Irish will be led by midfielders Connor Klekota and Jon Gallagher, who have both impressed in recent weeks.
Notre Dame will also hope its defense remains strong, as the team has only allowed 13 shots on goal since the start of the season and only conceded one goal — Xavier's game-winner Tuesday.
"You have to play smartly in ACC games because you will be playing against very talented players," head coach Bobby Clark told Notre Dame ahead of Friday's contest. "There was a disappointment in the locker room after Tuesday's game (against Xavier), but time heals all of that."
Meanwhile, two Big Ten teams vie for their first conference win in another Friday showdown. Michigan State hosts Maryland at DeMartin Soccer Stadium, and the Spartans will be hoping to show the country that they are serious after pushing No. 1 Creighton to its limits last weekend.
Senior midfielder and playmaker Mael Corboz will lead the Terrapins on the road, as he has four assists while also adding a goal along the way. Sebastian Elney will most likely be on the receiving end after putting three goals away thus far.
For the Spartans, head coach Damon Rensing will be looking for his back line to hold firm. Michigan State has only allowed two goals so far this year, with one coming against the No. 1 team in the nation and Oregon State.
Another ACC matchup features two Top 25 teams, as No. 8 Wake Forest hosts No. 25 Syracuse Saturday. The Demon Deacons lost their first match of the season at home to Elon Tuesday, but the result may just be a minor hiccup, as the team has shown glimpses of being a serious end-of-the-season contender.
Here is a rundown of where all of the top teams will be playing during the third weekend in men's college soccer:
THIS WEEKEND'S COLLEGE SOCCER SCHEDULE
FRIDAY
4 p.m. – Louisville vs. Virginia Tech
5 p.m. – (2) North Carolina vs. (4) Notre Dame
5 p.m. – Michigan State vs. (17) Maryland
6 p.m. – (22) American vs. (23) Loyola Marymount (At New Mexico)
7 p.m. – (5) Virginia vs. North Carolina State
7 p.m. – (13) Elon vs. Drexel
7 p.m. – (6) Clemson vs. Duke
7:30 p.m. – California vs. Davidson
8 p.m. – (11) Saint Louis vs. (16) Denver
9 p.m. – (21) New Mexico vs. Missouri State
10 p.m. – (3) Stanford vs. San Francisco
10 p.m. – UCLA vs. Cal Poly
10:30 p.m. – (7) Washington vs. Dartmouth
SATURDAY
7 p.m. – (8) Wake Forest vs. (25) Syracuse
7 p.m. – Charlotte vs. (12) Old Dominion
7 p.m. – Hofstra vs. (19) UNC Wilmington
7 p.m. – Omaha vs. Bradley
7 p.m. – Xavier vs. Bucknell
8 p.m. – (1) Creighton vs. Tulsa
SUNDAY
12 p.m. – (24) Indiana vs. Rutgers
1 p.m. – Western Michigan vs. Dayton
2 p.m. –  (6) Clemson vs. Brown
2 p.m. –  (23) Loyola Marymount vs. Missouri State (At New Mexico)
3 p.m. – (3) Stanford vs. Davidson
3 p.m. – Ohio State vs. (14) Penn State
3 p.m. – (7) Washington vs. Harvard
4 p.m. – West Virginia vs. (15) Georgetown
5 p.m. – California vs. San Francisco
9 p.m. – (16) Denver vs. Utah Valley State