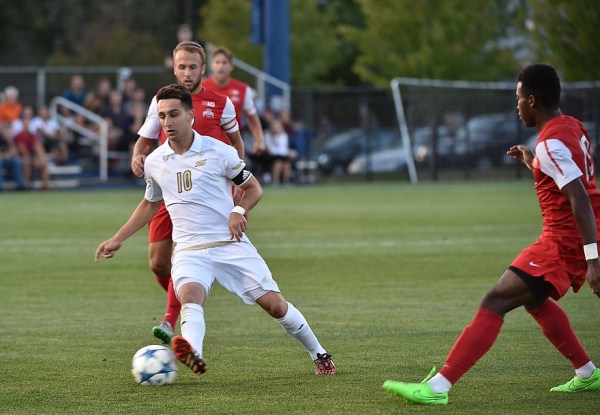 Photo by Akron Zips Athletics
By AARON CRANFORD

While the nation's best take a break from beating each other down, there are still a handful of intriguing battles to look forward to during the week.
One of those kicks off Wednesday at FirstEnergy Stadium – Cub Cadet Field.
SBI No. 13 Akron is fresh off of an important road win against UC Santa Barbara, and the Zips will host a No. 19 Penn State side that has been struggling recently.
Led by midfielder Adam Najem, who was called into the U.S. Under-23 Men's National Team College Identification Camp in August, team-leading goal-scorer Sam Gainford and freshman midfielder Richie Laryea, Akron will look to add more impressive wins to its 2015 resume.
Meanwhile, the nation's only perfect record will be put to the test again Tuesday, when No. 1 Creighton hosts Missouri State.
Head coach Elmar Bolowich scouted forward Fabian Herbers from across the pond, and since bringing him to the Bluejays in 2013, he and the team has had nothing but success. As of Monday, Herbers has seven goals, tied for third across the nation, and six assists, tied for second best in the country.
Here is a rundown of where all of the top teams will be playing this week:
MONDAY
5 p.m. – Valparaiso vs. (21) Omaha
TUESDAY
7 p.m. – (8) Notre Dame vs. Marquette
7 p.m. – Gardner-Webb vs. (6) Clemson
7 p.m. – (4) Virginia vs. George Washington
7 p.m. – Rhode Island vs. Boston College
7 p.m. – Colgate vs. Syracuse
7 p.m. – UCF vs. Florida International
7 p.m. – Princeton vs. American
8 p.m. – (1) Creighton vs. Missouri State
9 p.m. – (10) Denver vs. South Florida
WEDNESDAY
7 p.m. – (7) Coastal Carolina vs. North Carolina State
7 p.m. – (13) Akron vs. (19) Penn State
7 p.m. – William & Mary vs. (22) Elon
7 p.m. – (24) UNC Wilmington vs. College of Charleston
7 p.m. – (14) Old Dominion vs. VCU
7 p.m. – Drexel vs. (15) Hofstra
7 p.m. – Delaware vs. (12) Temple
7 p.m. – (11) New Mexico vs. San Francisco
8 p.m. – (20) Saint Louis vs. Indiana
THURSDAY
10 p.m. – UC Irvine vs. UC Santa Barbara