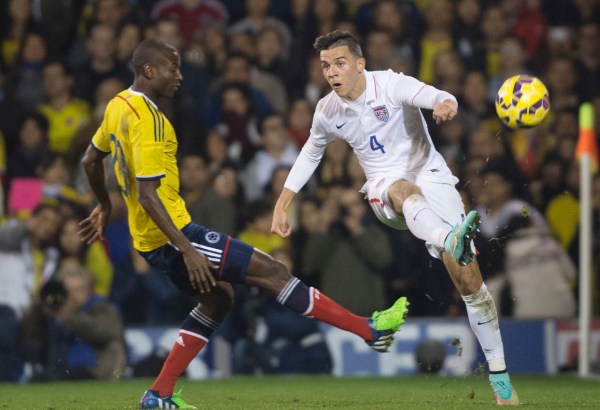 photo by Steve Flynn/USA Today Sports
By FRANCO PANIZO
WASHINGTON — Alfredo Morales may have only ever visited Peru once as a child and may not speak Spanish, but none of that ever stopped him from idolizing Peruvian players while growing up in Germany.
Like any young and impressionable soccer fan, Morales had his share of role models that he watched with devout enthusiasm. Naturally, he drifted towards Bundesliga players, but not all of the ones he looked up to were from his native land. Morales also deeply revered players from his father's home country of Peru, players like talented attackers Claudio Pizarro and Jefferson Farfan who plied their trades in Germany's top division at the time.
Reminiscing of childhood heroes usually brings back fond memories and feelings, but thinking of them is one thing. Seeing them up close and personal is quite another. Yet it is the latter which Morales could experience on Friday, as the U.S. Men's National Team welcomes Farfan and some of the Peruvian players that Morales continues to keep track of to this day to RFK Stadium for an international friendly.
"I loved Claudio Pizarro because he was like an idol to me," said Morales. "I think he was a fantastic player. Also (Jefferson) Farfan is an unbelievable player. He's had a lot of injuries the last couple of years, but he's a great player. I'm very happy, and I hope I can be a part of the game on Friday and see what happens."
Instead of playing against the Peruvians, Morales could have potentially been playing alongside them. He was eligible to represent the South American country at the international level because of his father's lineage, but passed on that opportunity.
The 25-year-old midfielder always felt very connected to the United States – who he was eligible to suit up for because his father was enlisted in the military – and not even public interest from the then-head coach of Peru or substantial media coverage during the 2014 World Cup cycle was enough to sway him away.
"I never spoke to somebody from the federation or the coaches or whatever," said Morales.
Even so, Morales got input from his dad about Peru the team and Peru the country. Not everything was described as rosy, especially not after Morales publicly stated he was picking the red, white and blue over the red and white.
"I'm not the type of going through the internet and read everything about me, (but) my dad sometimes he told me that the media in Peru, they are very aggressive" said Morales. "They wrote some bad things about me, but I don't care about this. I'm very happy to be here, play for the U.S., represent this country, great amazing country, and that's all I want to think about."
In truth, it has almost always been what he has thought about it. He decided to try and play for the U.S. over Peru or Germany when he was still just a teenager, representing the Americans' Under-20 team first, then the Under-23 side, and finally transitioning into the senior group.
He did so because he loved the U.S. despite never living in it, was a fan of everything it had to offer and believed playing for the North American nation was the best decision for him.
There was never any doubt about that then, and there certainly isn't any now.
"I never had three choices," said Morales. "For me, I made a choice to play for the U.S. when I was 17, so that was my way, my decision. Nothing else mattered so. For me, I had the chance to play for Germany or Peru, maybe, but I always wanted to play for the U.S."
Now, Morales may get a chance to showcase the form he's been on at FC Ingolstadt against the other of the two countries that seriously considered bringing him on board. It will admittedly be a memorable match for him, especially since he will have family members in the stands.
Those sentiments will, however, be pushed aside if he steps on the field. His aim is to try and help the U.S. pick up a win no matter what.
Yet another example of how he's more than happy with the decision he made.
"Obviously, because of my background it's a very special game," said Morales. "Yes, I'm very excited and looking forward, but I want to beat them on Friday."