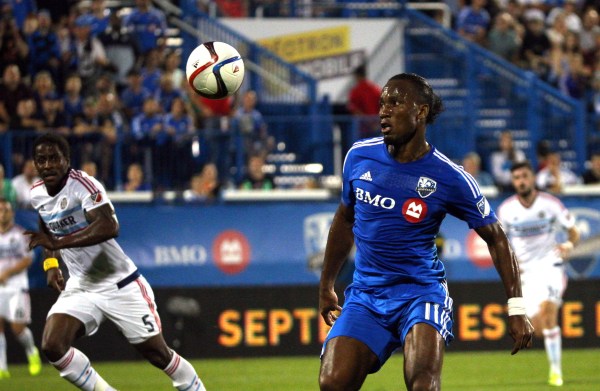 Photo by Jean-Yves Ahern/USA TODAY Sports
By SBI SOCCER
Didier Drogba has made a name for himself scoring goals wherever he goes, no matter the occasion or pressure surrounding the situation.
He came through again Saturday when the Montreal Impact needed him most.
In his debut start for the Impact, Drogba netted a hat trick to lead Montreal to a 4-3 win against their Eastern Conference foes in the Chicago Fire. The perfect hat trick, using his right foot, left foot and head to score, respectively, earns the Ivorian striker recognition as SBI MLS Player of the Week.
Drogba used his strength to score the first Impact goal of the night, and he celebrated his first MLS goal in classic fashion, but he would not stop there. Down 3-2 in the second half, Drogba was played in on goal from a quick free quick. He made no mistake to secure his brace and urged his side and the crowd on after the goal.
Finally, Drogba scored the game-winner four minutes later, claiming his hat trick, leapfrogging the Impact into a playoff position and sending Stade Saputo into a frenzy.
The 37-year-old striker beat out New England midfielder Lee Nguyen, Seattle Sounders forward Clint Dempsey and Philadelphia Union forward Connor Casey for this week's SBI MLS Player of the Week honors.
What do you think about Drogba's performance? Who stood out to you this weekend?
Share your thoughts below.