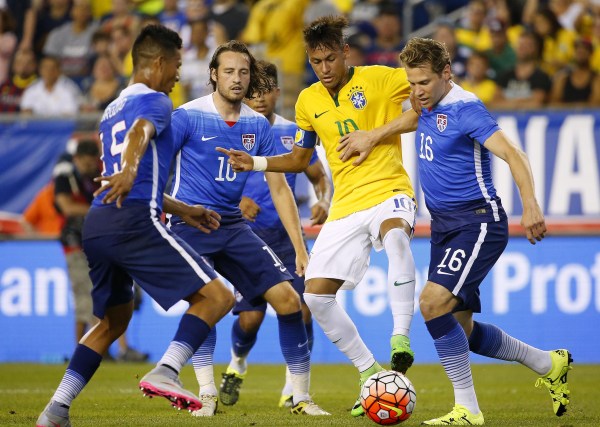 photo by Winslow Townson/USA Today Sports
By FRANCO PANIZO
FOXBORO, Mass. —  This much was evident after the U.S. Men's National Team's latest loss: There is room for improvement. A lot of it.
Hulk scored early, Neymar bagged a brace and Brazil routed the U.S. to the tune of 4-1 in a lopsided affair at Gillette Stadium on Tuesday that frankly could have been worse for the Americans. The U.S. looked overmatched from the onset, struggling to come up with attacking ideas when it had the ball while scrambling to stay organized and tight in defense.
Brazil, for the most part, cruised to victory, and that is likely to set off plenty of alarm bells for U.S. fans given that the CONCACAF Cup match with Mexico is just around the corner.
"It freaking sucks that we got it handed to us, but at the end of the day everybody can look at themselves in the mirror and say, 'This was (crap),' for lack of a better word," said midfielder Alejandro Bedoya, who was substituted 36 minutes into the game. "We know we've got to do a lot better than this. You learn a few things from today and Mexico is going to be a whole different atmosphere, a whole different type of game, and everything."
Mexico might not pose the same kinds of threats and problems that Brazil did when the CONCACAF powerhouse takes on the U.S. on Oct. 10. The Americans cannot, however, afford to be as toothless and lifeless as they were with the ball on Tuesday night if they wish to win next month and advance to the 2017 Confederations Cup.
The defense also has to improve. While a makeshift back four limited Brazil to one goal in the first half, it was overrun and maybe even embarrassed after the intermission. The dynamic Brazilians took better advantage of the space allowed and repeatedly capitalized on the Americans' errors, including on the 50th-minute foul from Geoff Cameron that gave Neymar the game-winning penalty kick.
"They're not used to that," said U.S. head coach Jurgen Klinsmann when asked why his players struggled. "It's a tempo that is played in (the UEFA) Champions League. If you watch Champions League, this is Champions League tempo, and it's not only the technical tempo that plays one-, two-touches and then they dribble whenever they think it's the right moment to dribble.
"It's the speed of thought. They are always two thoughts ahead. It's like playing chess. They are just two moves ahead, and that's that level. We'll try to catch up as much as we can, but if they turn it on and then you make a couple of mistakes that you shouldn't make – like the penalty in a moment where we actually start to get a bit into the game – then you get punished."
Some of the gaffes that the U.S. had were attributed by Klinsmann and some of his players to fatigue. Having to run after the technically-gifted Brazilians for much of the match in their second game in five days, the Americans admittedly wore down over the course of the 90 minutes.
There will not be another game before playing Mexico, but El Tri is another team that is possession-oriented. As such, the U.S. will need to do a better job of winning the ball back and keeping it next month at the Rose Bowl in Pasadena, California. Otherwise, Klinsmann's side could again find itself with tired legs and in a less than favorable position.
"If you're able to keep the ball like that and have productive possession and you make the other team chase, you get tired," said forward Jozy Altidore. "This is normal at any level."
Added Tim Ream to SBI: "You're not going to pick out names, but you could definitely see the guys who just started with their seasons and maybe are not used to playing (two games in quick succession)."
Nonetheless, the U.S. remains confident about its chances next month. Klinsmann is hoping some of his walking wounded can return for the bout with Mexico – especially forward Clint Dempsey and fullback Fabian Johnson – and he is optimistic that they will.
Yes, this was an ugly loss, but one that will quickly be forgotten about should the Americans report to camp next month and get the job done vs. their southern rival.
"We didn't think we were the best team in the world when we beat Holland and Germany in friendlies in June, and we don't think we're the worst team in the world right now," said captain Michael Bradley. "You always have to maintain a level-head and kind of be able to look at things in a reasonable way. At the end of day, this game is not the be-all, end-all for us this year.
"It's disappointing. I don't think we handled it as well as we should have. I'm not trying to just sweep it under the rug completely, but at the end of the day, we'll look at it, we'll talk about, but there's bigger things to come."